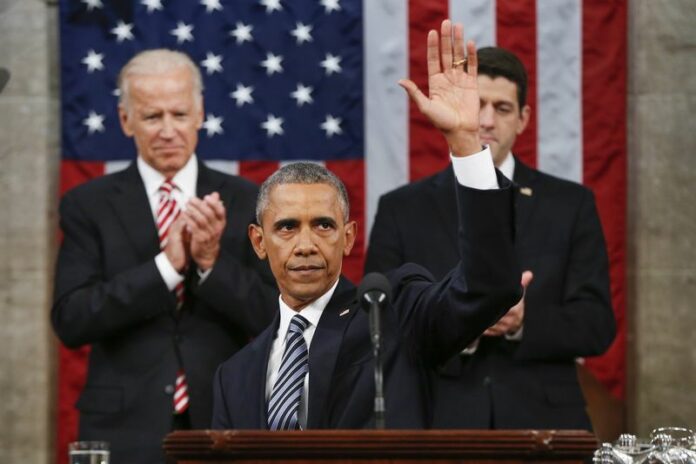 WASHINGTON — U.S. President Barack Obama attempted to paint an optimistic vision of the future of the United States as he heads into his final year in office and works to cement the legacy of his eight years in office.
"I believe in change because I believe in you," he said, echoing themes from his 2008 election campaign in his final State of the Union address to Congress. "That's why I stand here as confident as I have ever been that the state of our union is strong."
Obama dismissed rhetoric from his political opponents and the slew of candidates attempting to replace him that the United States' economy and stature in the world are in decline.

"Anyone claiming that America's economy is in decline is peddling fiction," he said in remarks that took aim at the Republican candidates seeking to replace him in November elections.
The speech was short on concrete policy proposals. Obama instead said lawmakers must address big questions regardless of who the next president is, including: how to provide economic opportunity, make technology work for people, keep the U.S. safe and improve the political climate.
On foreign policy, the top priority is "protecting the American people and going after terrorist networks," Obama said, but stressed that Islamic State does "not threaten our national existence."
He renewed his call on lawmakers to pass an authorization for the military action in Iraq and Syria that he first requested more than a year ago to replace authorization provided after the Sept. 11, 2001, terrorist attacks and ahead of the 2003 invasion of Iraq.
Obama also urges Americans not "echo the lie" that Islamic State is representative of Islam, but to recognize Islamic State terrorists for "what they are – killers and fanatics who have to be rooted out, hunted down, and destroyed."
He praised the international climate deal reached in Paris last month, the Iranian nuclear deal and the fight against Ebola in West Africa.
He also called on Congress to approve the Trans-Pacific Partnership trade deal agreed last year among 12 nations and to lift the half-century long trade embargo of Cuba.
Obama sought to expand his speech from a list of proposals for the next year to a broader discussion of the future.
"America has been through big changes before – wars and depression, the influx of immigrants, workers fighting for a fair deal, and movements to expand civil rights," he said.
"Each time, there have been those who told us to fear the future; who claimed we could slam the brakes on change, promising to restore past glory if we just got some group or idea that was threatening America under control. And each time, we overcame those fears."
He urged lawmakers to rise above the partisan politics that have often put him at loggerheads with the Republican-controlled Congress and that will only intensify before the election.
A better future is in reach, he said but "it will only happen if we fix our politics."
Speaking directly to lawmakers, he said many had told him they would like to cooperate more, but are beholden to political donors or their partisan base.
He called on the American people not to fall victim to frustration, tribalism and bigotry.
"We can't afford to go down that path," he said. "It won't deliver the economy we want, or the security we want, but most of all, it contradicts everything that makes us the envy of the world."
Story: DPA / Anne K. Walters