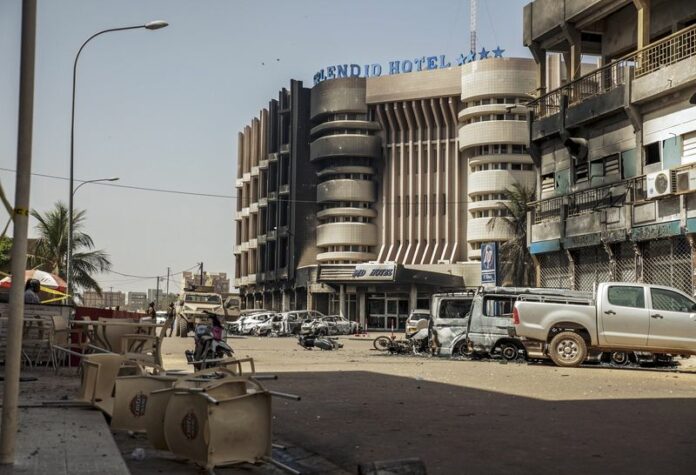 OUAGADOUGOU, Burkina Faso — Al Qaeda militants in Burkina Faso killed 26 people from several countries in an attack on a cafe and a luxury hotel in the capital, which ended after raids by security forces on Saturday.
Prime Minister Paul Kaba Thieba gave the confirmed death toll from the attacks after an emergency meeting of his cabinet. A further 56 people were injured, several of them seriously, according to Thieba.
Interior Minister Simon Compaore said 126 hostages had been freed from the 147-room Splendid Hotel in the West African country's capital, Ouagadougou. Another 30 were safe at the Cappuchino cafe.
Among the dead were six Canadians and one U.S. citizen.
Calling the attack a "terrible crime," Canadian Prime Minister Justin Trudeau said Canada was "deeply saddened by these senseless acts of violence on innocent civilians."
The U.S. State Department named the American victim as Michael James Riddering, who was a missionary according to U.S. media.
Two Swiss nationals and two French citizens – work colleagues according to French news agency AFP – were also reported killed.
The siege, which began Friday evening and continued overnight with sporadic reports of gunfire and explosions, ended with Burkinabe and French soldiers launching a counter-assault on the hotel.
The attackers first opened fire upon the Cappuccino Cafe before moving on to the hotel next door, which is popular with foreigners.
Four militants were killed, Compaore said.
The U.S.-based monitoring group SITE Intel said the group al-Qaeda in the Islamic Maghreb (AQIM) claimed responsibility.
UN Secretary General Ban Ki-moon condemned the "heinous terrorist attacks."
The assault occurred just weeks after President Roch Kabore took office. Kabore was elected in November in the first free elections in the country in 50 years.
The landlocked country, a former French colony, is the largest cotton producer in Africa and is also rich in gold. Despite its resources, it is one of the poorest countries in the world.
French President Francois Hollande "declared his complete support for President Kabore and to the Burkinabe people in the despicable and cowardly attack that has hit Ouagadougou," his office said in a statement.
Story: DPA