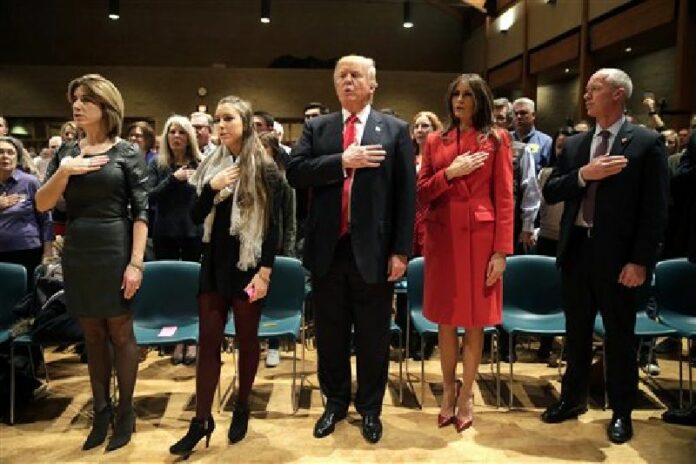 DES MOINES, Iowa — Billionaire real estate magnate Donald Trump faced the first big test of his stunning presidential campaign as he looked to defeat Sens. Ted Cruz and Marco Rubio in Monday's Iowa Republican caucuses, the leadoff contest in the U.S. presidential race. On the Democratic side, Hillary Clinton sought to fend off an unexpectedly strong challenge from Sen. Bernie Sanders, a self-described democratic socialist.
UPDATE: Vote called in Republican Ted Cruz' favor.
The caucuses — meetings held simultaneously across the state — got under way Monday evening in a political environment few could have foreseen a year ago. The brash, controversial Trump has become the Republican front-runner by tapping into anxiety about terrorism, immigration and the economy. Former Florida Gov. Jeb Bush, once seen as the likely front-runner, is near the bottom of polls.
Clinton, the former secretary of state, U.S. senator and first lady, had been expected to cruise to victory in Iowa and beyond. But Sanders has appealed to the Democrats' liberal base, especially the young, who are concerned about growing income inequality and the shrinking of the middle class.
Interviews with voters who arrived early to the caucuses confirmed that Clinton and Sanders are in a tight race and that Trump, Cruz and Rubio are in a three-way contest. The interviews were conducted by Edison Research for The Associated Press and television networks.
Iowa has long led off the state-by-state contests to choose delegates for the parties' national conventions. A victory hardly assures the nomination — Iowa accounts for only about 1 percent of the delegates who select the nominee. But a win there, or even an unexpectedly strong showing, can give a candidate momentum and media attention, while a poor showing can end a candidacy.
Monday's contest offers the first hard evidence of whether Trump, a reality TV star, can turn the legion of fans drawn to his plainspoken populism into voters. He has intensified his campaign schedule during the final sprint, including a pair of rallies Monday. He appears to have a slim edge over Cruz, a Texas senator whose uncompromising and sometimes abrasive anti-Washington approach has antagonized establishment Republicans, but excited conservatives who see politicians as unprincipled and ineffective.
Cruz has spent the closing days of the Iowa campaign focused intensely on Rubio, trying to ensure the Florida senator doesn't inch into second place. Rubio is viewed by many Republicans as a more mainstream alternative to Trump and Cruz, though he'll need to stay competitive in Iowa in order to maintain his viability.
In the state's Democratic race, polls showed Clinton and Sanders in a tight race, reviving memories of the former secretary of state's disappointing showing eight years ago when Obama won the caucuses and, ultimately, the Democratic nomination and presidency.
Clinton has campaigned as a progressive who could get things done in a Washington split by an intense partisan divide. But her familiar name and long resume aren't necessarily advantages in an election year dominated by anti-establishment candidates. Clinton has also been on the defensive over her use of a personal email account for official business as secretary of state, raising questions about whether she mishandled government secrets and her overall trustworthiness.
Iowa is a contest of organization as well as popularity. With votes being cast in about 2,000 meetings across the state, candidates not only had to win over voters, but make sure their supporters turned up — a much more difficult task than generating turnout for all-day primary voting.
"We knocked on 125,000 doors this past weekend," Clinton told NBC's "Today" show. "Although it's a tight race, a lot of the people who are committed to caucusing for me will be there and standing up for me and I will do the same for them in the campaign and in the presidency."
Sanders told volunteers and supporters: "We will struggle tonight if the voter turnout is low. That's a fact.'"
A victory by Sanders in Iowa would give him momentum headed into the Feb. 9 New Hampshire primary. Sanders is expected to do well in New Hampshire, which is next to his home state of Vermont. But his long-term prospects remain questionable. Clinton has a lead in national polls and is well-placed to win other states over the next month, especially those which unlike Iowa have large numbers of black and Latino voters.
Some of the Republican candidates have been focusing more on New Hampshire than Iowa, including Bush, Ohio Gov. John Kasich and New Jersey Gov Chris Christie. While none is expected to do well in Iowa, they are all hoping for strong showings in New Hampshire to keep their campaigns alive.
Story: Associated Press