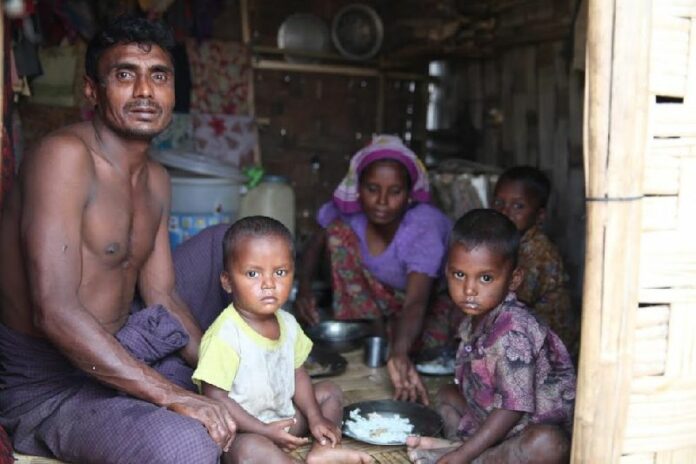 THET KEL PYIN, Rakhine State, Myanmar — After Husaina's 20-year-old son fled poverty and discrimination in Myanmar's Rakhine State by boat, she heard nothing from him for seven months.
Then, in a shocking phone call, she was told the young Rohingya Muslim was in the hands of people smugglers in Thailand, and had fallen severely ill. The only way for him to be released was to somehow find the money to pay a ransom.
"The man said: 'If you don't pay money, he will die… I was so upset. How did he get into the hands of the brokers? How did he become so ill?'" she said, her eyes downcast while sitting in her dank and crumbling one-room temporary home in Thet Kel Pyin displacement camp, a few kilometres outside Sittwe.
They found an employer in Malaysia willing to pay about USD$1,600 (51,000 baht) in exchange for Mamed Rohim's labour. That was over a year ago and Rohim is still working to repay the debt. He only manages to send over about USD$50 (1,800 baht) every two to three months, which the family uses to repay their own debts. 
Since fleeing their home in Sittwe, the capital of Rakhine State in western Myanmar from which they are now barred, the family – seven other children and an asthmatic husband – is struggling to make ends meet. But Husaina says Rohim's plight continues to haunt her. 
"Even though I want to send other children on the boat so they could find jobs, I'm really worried about the brokers so I dare not," she said, as a Rohingya neighbour joined in with a similar tale.
Waves of Rohingya Muslims have fled communal violence and apartheid-like conditions in Myanmar in recent years, many of them swept up in trafficking rings, some of which hold men like Rohim for ransom, making threats to their impoverished families that their loved ones will be killed.
But human rights groups say there has been a dramatic drop in the number of Rohingya leaving Myanmar this year. They attribute this to a crackdown on human trafficking by countries such as Thailand and Malaysia and the political changes at home following the National League for Democracy's landslide election win in November.
The Myanmar government does not recognise the 1.1 million Rohingya as citizens and calls them "Bengalis," to suggest they are illegal immigrants from Bangladesh. The group is banned from travel within Myanmar and faces restrictions on access to education and healthcare.
Experiences such as Husaina's are common among the Rohingya, confined to the squalid displacement camps outside Sittwe. The stories are shared among residents, making many fearful of the multi-day journey. Most of the Rohingya this correspondent spoke to say they are now too scared to attempt it. 
"There have been very few boats since the sailing season started in October and none at all this year, 2016. The key reason is that smugglers have no option for disembarkation due to Thailand being virtually closed. Another is the situation in Malaysia (where) there are regular immigration raids," Chris Lewa of the Arakan Project, a Rohingya advocacy group which tracks migration, told Myanmar Now.
Malaysian police have carried out arrests of asylum seekers queuing up at the offices of the U.N. refugee agency in the last week or so, and some 2,500 Rohingya are currently held in immigration detention centres across Malaysia, Lewa said.
"The majority of Rohingya who arrived over the last two, three years are unregistered and jobs have become really difficult to find… The community feels very vulnerable," she added.
Matthew Smith, executive director of Thailand-based human rights group Fortify Rights, agrees numbers leaving Rakhine have dropped, even though it is difficult to quantify the decrease in departures due to the clandestine nature of the voyages.
He warned, however, that the transnational trafficking rings have not been dismantled and "are poised to resume their activities at the first opportunity."
Hope Keeps Some In Myanmar
Since 2012 – when communal violence between Rakhine Buddhists and Rohingya displaced some 140,000 people, an overwhelming majority of them Muslims – tens of thousands have left Rakhine State by boat. 
What began decades ago as a journey that would take weeks on rickety boats, has in recent years become a mass people trafficking and smuggling business. The trafficking grew to such a scale that it lead to a crackdown by Thai and Malaysian authorities last year.
In Thet Kel Pyin, home to some 5,600 displaced people, most of the Rohingya who have stayed behind have now settled down to a life of daily survival and a feeling that segregation is becoming more and more permanent.
Displaced teenagers now go to a high school near the camp that did not exist two years ago, and aid agencies as well as the government has set up more schools and clinics in and near the camps. 
Despite continued government restrictions, some Rohingya have not left because they are holding out hope for the new government led by Aung San Suu Kyi's NLD, said Smith of Fortify Rights.
"Many Muslims in Rakhine State tell us they hope Daw Suu will usher in a better day for them. Anything, they say, will be better than the past," he said.
This hope is held despite the fact that the Rakhine State parliament is dominated by the virulently anti-Muslim Arakan National Party (ANP). The NLD itself failed to field a single Muslim candidate and has refused to condemn the persecution faced by the Rohingya, who are viewed with suspicion by many in Myanmar. 
Sultan, 65, said the NLD government now offers the best hope for change. He says he is too old to go anywhere and refuses to countenance sending his daughters away, even though life in the camp is a far cry from his old life as the owner of three small businesses and a brick house in Sittwe.
He now goes around selling 150-kyat (4 baht) tooth powder in the villages and camps, driving a motorcycle a friend has bought for him.
"I feel really desolate over losing our right to vote, but I have hopes that things would improve under the new government," he said, surrounded by his wife and seven daughters, the youngest of whom was just 26 days old.
The Thein Sein government took away the Rohingya's last official identity papers last year, and with it their right to vote, prompting an outcry from the international community, who have been providing aid to the Rohingya.
Sultan said, "We are really thankful for the international community for helping us and I know we are still alive because of their help. But we want to stand on our own two feet. We just want to go back to where we were before."
Tales of Abuse
For others, the tales of abuse during the boat journey are a powerful deterrent. Win Naing, a 43-year-old with three young children under the age of five, said, "What would my children and my wife do if something happened to me on the boat or in Thailand? I would rather die here."
Kawri Mullah, Husaina's neighbour, concurs. About six weeks ago, the 25-year-old father of two decided to leave the camp, desperate for a stable income that odd jobs cannot provide. But he has abandoned the plan for now after thinking it over, he told Myanmar Now.
His decision was influenced by what happened to his brother-in-law, who left the camp a year and a half ago and was sold by his broker to a butcher in Thailand for USD$850 (30,000 baht).
"He left with only two packs of energy biscuits. When they reached Thailand, a butcher apparently liked that my brother-in-law looks big and strong," Mullah said.
After months of no pay and little to eat, the brother-in-law ran away to find another employer, but the butcher found him, and threatened and took him away, according to Mullah. That was nearly five months ago and the last time they heard from him. He wasn't able to send any money back.
"I'm really scared after hearing his story. How can you live like that? I have two children and a wife. Here, even if I die, I have my family near me," he said.
Story: Thin Lei Win
Related Stories: 
Stranded in Thailand, Rohingya Trafficking Victims in Limbo
New Rohingya Detention Camp Found in Thailand, More Arrest Warrants Issued