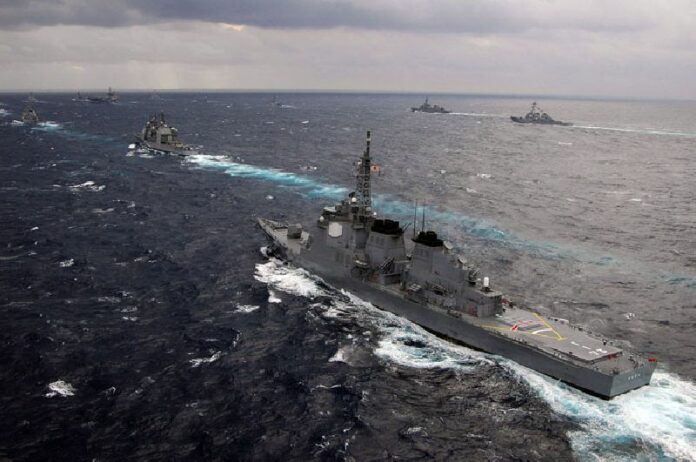 MANILA — Japan will sign an accord with the Philippines to allow Tokyo to supply military equipment to Manila, the first such Japanese defense pact in a region where both have expressed alarm over China's island-building and other aggressive acts in disputed waters.
Defense Secretary Voltaire Gazmin told The Associated Press on Saturday that the agreement he'll sign on Monday with the Japanese ambassador in Manila is not directed against any country but aims to address gaps in the underfunded Philippine military's capabilities.
The Asian allies began stepping up defense cooperation "even before the disagreement in the West Philippine Sea," Gazmin said, using the name the Philippine government has adopted for the disputed South China Sea, where its territorial conflict with Beijing has flared in recent years.
"It's not directed against any country," he said in what appeared to be an effort to avoid provoking any hostile Chinese reaction.
The Asian neighbors have openly brought their security and political ties to new levels, including by holding joint naval search and rescue drills near the disputed South China Sea last year that angered Beijing.
Philippine President Benigno Aquino III and Japanese Prime Minister Shinzo Abe have exchanged visits and vowed to intensify defense cooperation, sparking talks about a possible security pact that will allow Japanese forces to hold larger drills with Filipino troops in the Philippines. The Philippines has signed such visiting forces accords with the United States and Japan.
Japan's Emperor Akihito paid his respects last month at war memorials in the Philippines, where the largest number of Japanese invasion troops perished outside their homeland in World War II.
Last year, Japan's parliament approved contentious legislation that enhances the role of the country's military by loosening post-World War II constraints, reinterpreting the Japanese constitution and fundamentally changing the way it uses its military.
For the first time since the end of the World War II, Japan's military can now defend its allies even when the country isn't under attack and work more closely with the United States and other nations.
The legislation has sparked protests and debate about whether Japan should shift away from its pacifist ways to face growing security challenges.
Gazmin said there has been no discussion on what defense equipment Japan can provide, but added that the Philippine military currently needs to upgrade its intelligence, surveillance and reconnaissance capabilities.
"They haven't offered what we can buy," Gazmin said. "There needs to be a wish list."
A senior Philippine security official said the new pact will pave the way for Japan to sell new military hardware, transfer defense technology, donate used military equipment or provide defense training to Filipino forces.
It "opens the door to a lot of opportunities beyond the confines of mere equipment transfer or sale," the official said on condition of anonymity because he was not authorized to talk to reporters.
The Philippines, however, is restricted from reselling or transferring any Japanese-supplied military equipment to a third country, the official said.
Japan has forged similar pacts with the United States and Australia, but the Philippines is the first Southeast Asian country to have such a defense deal with Tokyo, Gazmin said.
Aside from China and the Philippines, Vietnam, Malaysia, Brunei and Taiwan also have conflicting claims in the South China Sea, a major conduit for world trade. The United States lays no claims to the disputed territories, but began bold attempts to promote freedom of navigation and overflight after China turned several disputed shoals into islands that rival claimants fear could be used as a springboard to project its military might and intimidate rival claimants.
Beijing has said it harbors no hegemonic intent, insisting that it has the right to build in what it says has been Chinese territory since ancient times.
Story: Jim Gomez / Associated Press