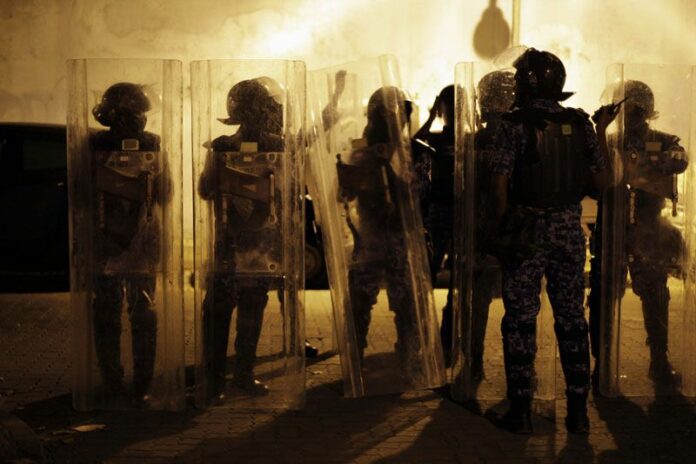 COLOMBO, Sri Lanka — With most opposition leaders in jail or exile, public protests tightly controlled and courts rendering verdicts decried for lack of due process, the Maldives has nearly slid back to where it was eight years ago: an autocratic state that quashes dissent.
Since assuming power in this Indian Ocean archipelago nation of luxurious seaside resorts just over two years ago, President Yameen Abdul Gayoom has tightened his grip on this fledgling democracy with virtually no challenger.
The opposition is in disarray and freedoms have been restricted. Mohamed Nasheed, a pro-democracy activist who won the 2008 elections, has been sentenced to 13 years in prison, and two defense ministers, including one of Gayoom's allies who fell out of favor, have been given long prison terms. Street protests are banned and rallies that are permitted in restricted places are poorly attended.
Even two of Gayoom's vice presidents have been voted out by allied lawmakers in Parliament. The first fled the country and the second has been arrested for attempting to assassinate the president in a mysterious blast on his speedboat.
"If the ruling party doesn't allow the opposition to function, again the concept of democracy is flawed," said Abbas Faiz, Amnesty International's Maldives researcher. "In today's Maldives the reality is this."

Former Maldives President and current opposition leader Mohamed Nasheed, in white, tussles with policemen who stopped him from speaking to journalists Feb. 23, 2015, in Male, Maldives. Photo : Sinan Hussain / Associated Press
The U.S. State Department has called for an end to politically motivated trials and urged the country to "restore confidence and a commitment to democracy and human rights."
It's been a depressing downward spiral for this young democracy of 1,200 coral islands that in 2008 was brimming with hope after holding its first multiparty election, ending the autocratic 30-year rule of Gayoom's half-brother.
During his time in office, Nasheed faced conflicts with the judiciary and bureaucracy. His handling of disputes and controversial steps like locking up the Supreme Court and arresting opposition politicians raised questions about his own abuse of power. His ordering of the arrest of a top sitting judge in 2013 and holding him in secret detention triggered weeks of protests.
Nasheed resigned amid the public outcry and after losing support from a section of the military, but he then battled Gayoom in a contentious 2013 election. The Supreme Court annulled the first round results that showed Nasheed in the lead, and police then delayed a revote giving Gayoom enough time to form a winning coalition.
Gayoom, 56, has steadily concentrated power in his hands and tried to sideline opponents.
After governing coalition party leader resort owner Gasim Ibrahim defected to the opposition last year, his properties were seized by the government and his bank accounts frozen. He fled the country and returned several months later in support of Gayoom's government, and won court cases that gave him back control of his properties and accounts.
Last month, Sheikh Imran Abdulla, leader of the country's conservative Islamic party, was sentenced to a 12-year jail term for instigating violence in a speech during an anti-government protest last year.
Even Gayoom's allies aren't safe. His running mate in the 2013 election was voted out by Parliament and Gayoom appointed an ambitious young loyalist to the post. But within months the new deputy was arrested for plotting to assassinate Gayoom in a blast aboard the presidential speedboat. The government insists it was a bomb but FBI investigators said there is no such evidence. No vice president has been appointed since.
Gayoom also plans to make defamation a criminal offense amid series of media reports and opposition statements implicating him in corruption and money laundering — charges he denies.
Government spokesman Ibrahim Hussain Shihab says democracy is still evolving in the country and that it welcomes support from the international community.
"Maldives is a young democracy; it has one of the most liberal constitutions in the region," he said. "We have independent institutions as well but they are still at the stage of building capacity. The capacity itself is not ideal. We want to work toward that."
In response to criticism from international organizations for failing to protect democratic principles, Shihab acknowledged that the country "may be lacking."
"What we need is guidance and support to rectify problems inherent in this young democracy," he said. "We are open to international support."
The European Union is working with the Maldives to improve its democracy, but recent events raise serious concerns, said Paul Godfrey, the EU's deputy head of mission for Sri Lanka and Maldives.
"We have seen a movement backward from the election in 2013," Godfrey said, "which under the current circumstances don't give us confidence that there could be a free and fair election in 2018."
Story: Krishan Francis / Associated Press