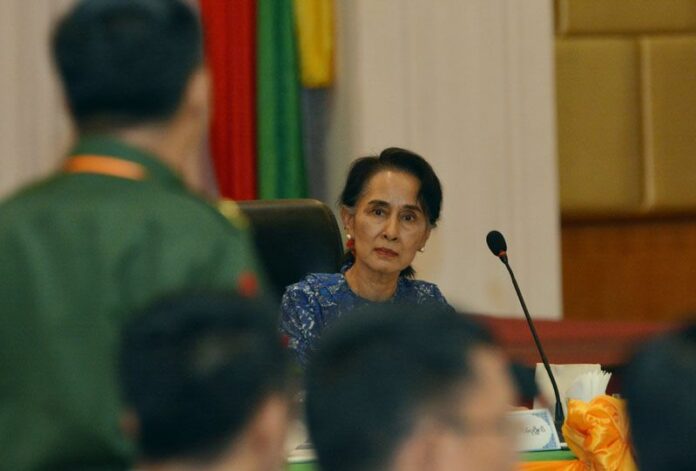 YANGON, Myanmar — A prominent anti-Muslim activist has been arrested for posting a provocative statement on Facebook about Myanmar's army commander and the country's de facto leader, Aung San Suu Kyi, the head of a Buddhist nationalist group and a human rights lawyer said Thursday.
Nay Myo Wai, chairman of Yangon based Peace and Diversity Party, was arrested Wednesday after a complaint was filed against him for a Facebook posting falsely claiming that army commander Min Aung Hliang had not seized power because he wanted to marry Suu Kyi.
He could face up to three years in jail and a fine if convicted of using a telecommunications network to extort, threaten, obstruct, defame, disturb, inappropriately influence or intimidate. The suit was filed by Wai Yan Aung, an executive member of the Burma Teachers' Federation.
Suu Kyi's government, which took power at the end of March, has been cautious in dealing with the widespread anti-Muslim sentiment, which has been spearheaded by nationalist Buddhist monks. The issue became a major problem when violence broke out in 2013 in the western state of Rakhine between ethnic Rakhine Buddhists and Rohingya Muslims.

Nay Myo Wai, chairman of Yangon based Peace and Diversity Party, in a still image from a video by BurmaVJVideo. Image: BurmaVJVideo / YouTube

Nationalists assert that the Rohingya do not represent a legitimate domestic minority, but are rather illegal immigrants who should be called Bengalis.
The previous military-backed government did virtually nothing to curb the sometimes violent sentiment against the Rohingya and other Muslims.
Nay Myo Wai has had a high profile in several demonstrations held with Buddhist monks, including one last week protesting the U.S. Embassy's use of the term "Rohingya." He has made public presentations of atrocity photos trying to link Muslims with terrorists, and last year issued death threats to Myanmar journalists who reported about an anti-U.N. rally in Yangon.
Win Ko Ko Lat, chairman of the Myanmar National Network, a Buddhist organization, said he believed the arrest of Nay Myo Wai was unfair because it was not confirmed that the Facebook account was controlled by him and he was not the sort of person to insult others.
"We will try to get him out," he said.
Human rights lawyer Robert San Aung, who represented many clients who faced political charges under the previous military-backed government, supported the arrest.
"This is right to arrest this man because he is causing problems for the whole country. He creates religious and social conflicts among people," he said. "It's already late to arrest him, he should have been arrested earlier."
Story: Esther Htusan / Associated Press