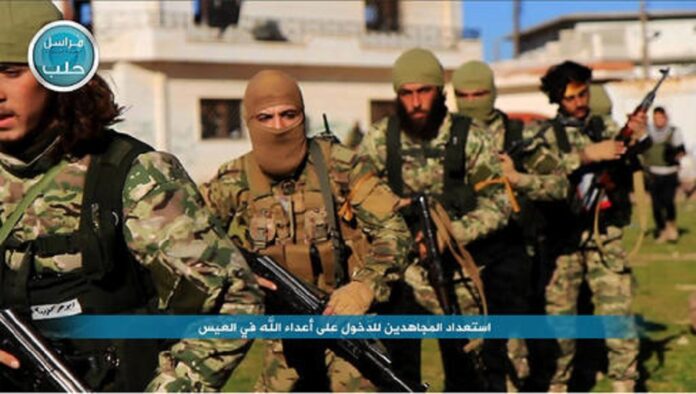 BEIRUT, Lebanon — Al-Qaida's branch in Syria is considering splitting ties with the global terror group, members say.
A Nusra Front official told The Associated Press on Tuesday that the group's leader plans to announce a disassociation with al-Qaida soon. Speaking via text message from northern Syria, the official, who spoke on condition of anonymity because he was not authorized to speak publicly about the issue, said Nusra will merge with other insurgent groups.
If it does, that could throw a wrench in talks between the U.S. and Russia on a military partnership in Syria, complicating efforts to separate the militant fighters from other moderate rebel factions.
Here's a look at the Nusra Front and what the move would mean.
A Powerful Force
The Nusra Front, led by Syrian militant Abu Mohammed al-Golani, is al-Qaida's affiliate in Syria and is the second strongest extremist group in the country after its rival, the Islamic State group. Its fighters have been among the strongest in battling the forces of Syrian President Bashar Assad and his allies like Lebanon's Hezbollah guerrillas. Nusra is among rebels holding territory in northern, western and southern Syria.
While made up of Islamic extremists and some foreign jihadis, the Nusra Front has presented its priority as ousting Assad rather than immediately pressing al-Qaida's global goals. That has enabled it to work alongside other Syrian factions, including moderate ones, to fight both the Syrian military and the Islamic State group. Those factions value its battlefield prowess: A Nusra-led coalition called the Army of Conquest has succeeded in rolling back Assad's forces in northwest Idlib province.
But its closeness to other rebels has complicated efforts at a ceasefire. The last ceasefire brokered by the U.S. and Russia did not cover Nusra or IS, so Russian warplanes and Assad's forces continued to battle them, often hitting moderate groups that were part of the truce, including ones backed by Washington and its Arab allies. That was one factor leading to the cease-fire's collapse.
Why Split?
Those in Nusra who want to split hope that breaking with al-Qaida would remove the international stigma from their shoulders. The group could present itself as a local Syrian rebel group and allow it to work even closer with more opposition factions, perhaps giving it some protection from the international campaign against it.
There have been rumors in the past of a split, but it never happened. Last year, al-Golani repeated his allegiance to al-Qaida leader Ayman al-Zawahri. But talk has become louder again. This week, a senior Nusra fighter based in northern Syria told The Associated Press that many senior officials in the group support splitting. Militant websites and social media have been full of claims the move would come soon, with some supporters claiming it would change its name to the Front to Conquer the Levant.
Still, the move is not certain, given it also has downsides for Nusra.
Impact For The U.S.
A split would complicate things for Washington, which is likely Nusra's intention.
The U.S. and Russia are trying to hammer out an agreement on a new military partnership in Syria. One leaked U.S. proposal would call for a sharing of intelligence and targeting for strikes against IS and Nusra on the condition Russia commits to convince its ally Assad to ground Syria's bombers and start a political transition process.
But that would be more difficult if Nusra becomes even closer to other rebels. Washington and its allies have long pressed mainstream opposition groups to "de-couple" from front lines where Nusra is present, with little success.
"If Nusra Front was to sever its ties to al-Qaeda, opposition groups will in no way ever consider such de-coupling," said Charles Lister, senior fellow at the Washington-based Middle East Institute. Consequently, any future intervention against Nusra will be perceived by opposition Syrians as a de facto move in support of the Assad regime, he said.
Downsides for Nusra
If it quits al-Qaida, the Nusra Front loses the brand name that drew many of its fighters to its ranks. That could drive away members.
Foreign fighters in particular could become disillusioned since many of them were drawn by the al-Qaida link and see their participation in the Syria war in more universal terms of global jihad rather than as simply a campaign to oust Assad, said Sam Heller, a Beirut-based analyst who writes about the Syria war.
A Syrian opposition figure said some hard-line Nusra leaders who oppose a move believe foreign fighters would switch over to other extremist factions like the Jund al-Aqsa militant group or the Turkistan Islamic Party. He spoke on condition of anonymity because he was not authorized to comment on the subject.
Once Al-Qaida, Always Al-Qaida?
Even if it breaks with the al-Qaida franchise, the group's Islamic militant ideology is not likely to change. "Whatever it might then name itself, (it) will still be much the same organization," said Lister.
And the U.S. is not going to start looking on it any more favorably.
Washington believes that Nusra's "fundamental nature is that it's al-Qaida in Syria," said U.S. State Department spokeswoman Elizabeth Trudeau when asked Tuesday about talk of a possible split.
Story by: Bassem Mroue