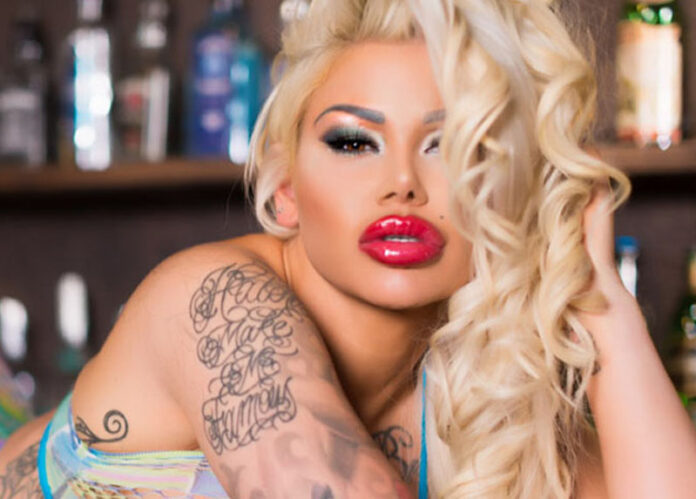 DUBAI, United Arab Emirates — Apparently unaware she could face a death sentence, a British porn actress says she flew to Iran to undergo a nose job and later wrote online about it, immediately sparking a social media outcry in the largely conservative Islamic Republic.
The buxom performer, known by the stage name Candy Charms, posted a photograph on Instagram several days ago showing her in the back of a car, her eyes hidden behind sunglasses with a scarf partially covering her blonde hair.
"Hey guys I have been on holiday in Tehran," she wrote online. She later added: "My nose was not straight and they are the best in the world in nose surgery. I had my nose done."
Iran is one of the top countries in the world for undergoing rhinoplasty, with more than 20,000 surgeries carried out each year.
The actress deleted the Instagram post and her account following a torrent of comments from Iranians, some friendly and others hostile. On Tuesday, the semi-official ISNA news agency quoted Hasan Qashqavi, a deputy foreign minister in charge of consular affairs, as saying a British-American actress visited Iran after she "applied for a visa through a travel agency" under a different name.
While not naming the actress, the story implied it was the adult film performer. An ISNA report Monday suggested she listed her occupation as a "hair stylist" on her visa application form.
Qashqavi was quoted by ISNA as telling tourism companies and officials to carefully examine the documents of those trying to visit Iran.
"We have clerics and lawmakers who have cultural sensitivities and these sorts of events may cause problems later," Qashqavi said.
That may be a bit of an understatement in the Shiite power. Under Iranian law, spreading corruption via broadcast carries a possible death sentence. Pornography likely would fall under the law's purview.
It's unclear whether the actress knew the risk before she made the trip. She did not respond to a request for comment made via Twitter by The Associated Press and an email address listed on her website bounced back as undeliverable.