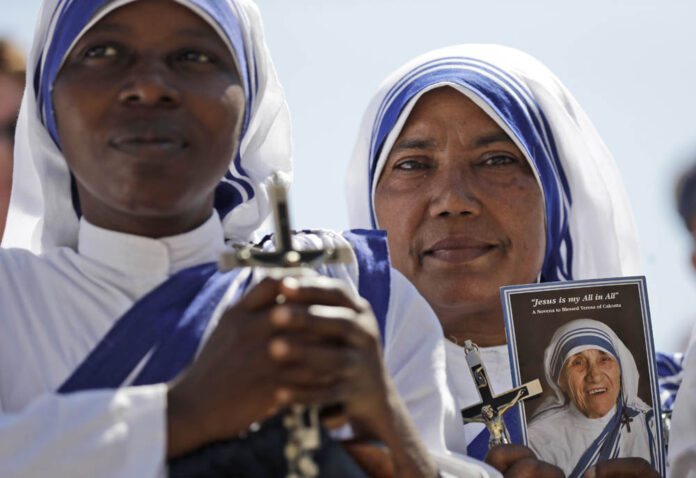 VATICAN CITY — Pope Francis on Saturday denounced what he called the modern-day sin of indifference to hunger, exploitation and other suffering, while commending the example of Mother Teresa on the eve of a sainthood ceremony for the nun who cared for India's destitute.
Choosing "to not see hunger, disease, exploited persons, this is a grave sin. It's also a modern sin, a sin of today," Francis told thousands of lay volunteers in St. Peter's Square at a special gathering to stress the need for more mercy and caring in the world.
Francis will lead a Sunday morning canonization ceremony in the square which is expected to draw huge crowds of faithful and other admirers of Mother Teresa, who founded an order of nuns devoted like her to giving tenderness and assistance to the poor who were sick and dying in the streets of Kolkata.
Cheering the pontiff in Saturday's crowd were many nuns from her Missionaries of Charity order, each wearing the characteristic white sari trimmed in blue that makes them easily identifiable worldwide where they care for the needy. Francis greeted a group of these nuns as he was driven through the square in his pope mobile, and one of the nuns put a blue-and-white garland around his neck.
"Tomorrow, we'll have the joy of seeing Mother Teresa proclaimed a saint," he said. "She deserves it!"
In his speech to the volunteers, including some who helped rescue survivors of the Aug. 24 earthquake in central Italy, he decried those who "turn the other way not to see the many forms of poverty that begs out for mercy."
Francis hailed volunteers as "artisans of mercy," whose hands, voices, closeness and caresses help people who suffer feel loved. While in the square, he petted Leo, the Labrador which pinpointed a 4-year-old child who had survived in a pile of quake rubble. The dog raised a paw, which Francis grasped.
Since becoming pope in 2013, Francis has been encouraging Catholic faithful and institutions to tend to the needs of marginalized people.
He said the credibility of the church to a large extent depends on the service of Catholics to the poor, the homeless, prisoners, immigrants, refugees and others in need.
"The world needs concrete signs of solidarity, above all when faced with the temptation toward indifference," he said.
In a shop in Kolkata which sells snacks and rosaries, Muslim shopkeeper Tanveer Ahmed recalled seeing Mother Teresa and other nuns take in a leprosy patient who lay bleeding in the street while others passed by, unmoved.
"We are fighting with each other. We are killing each other. But, if you want to see love, please look at Mother Teresa," Ahmed said. He added: "I believe Mother is next to God."
Story: Frances D'Emilio