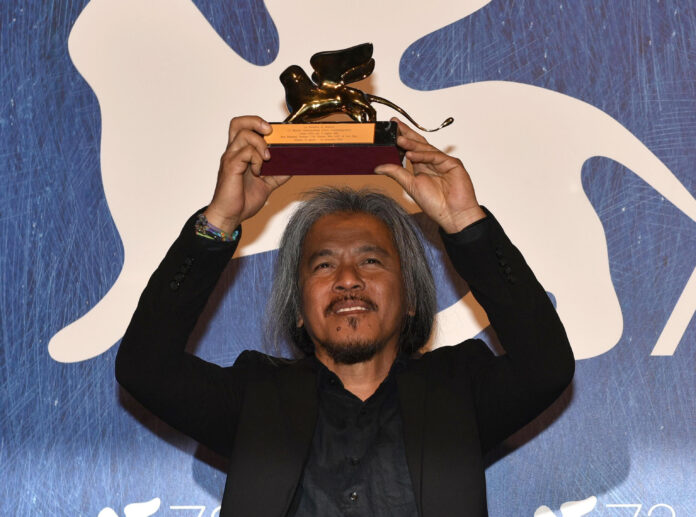 VENICE, Italy — The black-and-white revenge tale "The Woman Who Left" by Filipino director Lav Diaz won the Golden Lion prize for best picture Saturday at the Venice Film Festival.
Andre Konchalovsky and Amat Escalante shared this year's Silver Lion for best direction for their respective films: "Paradise" from Russia and Germany and "The Untamed" from Mexico.
Tom Ford's noir thriller "Nocturnal Animals" from the U.S. won the grand jury prize.
Argentine actor Oscar Martinez of "The Distinguished Citizen" and American actress Emma Stone of "La La Land" were honored with the acting trophies.
Noah Oppenheimer won best screenplay for "Jackie," which centers on Jackie Kennedy at the time of John F. Kennedy's assassination.
A jury led by British director Sam Mendes chose winners from among 20 movies competing at the 73rd annual festival.
The world's oldest film festival wrapped up Saturday after 11 days that brought stars including Natalie Portman, Chris Pratt and Denzel Washington to the canal-crossed Italian city.
The complete list of winners:
— Golden Lion: Lav Diaz, "The Woman Who Left"; Philippines.
— Silver Lion director (tie): Andre Konchalovsky, "Paradise"; Russia, Germany.
— Silver Lion director (tie): Amat Escalante, "The Untamed"; Mexico.
— Jury grand prize: "Nocturnal Animals," Tom Ford; U.S.
— Special jury prize: "The Bad Batch," Ana Lily Amirpour; U.S.
— Actor: Oscar Martinez, "The Distinguished Citizen"; Argentina, Spain.
— Actress: Emma Stone, "La La Land"; U.S.
— Screenplay: Noah Oppenheim, "Jackie"; U.S.
— Marcello Mastroianni Price for Young Performer: Paula Beer, "Frantz"; France.
— Luigi De Laurentiis Lion of the Future: "The Last of Us," Ala Eddine Slim; Tunisia.