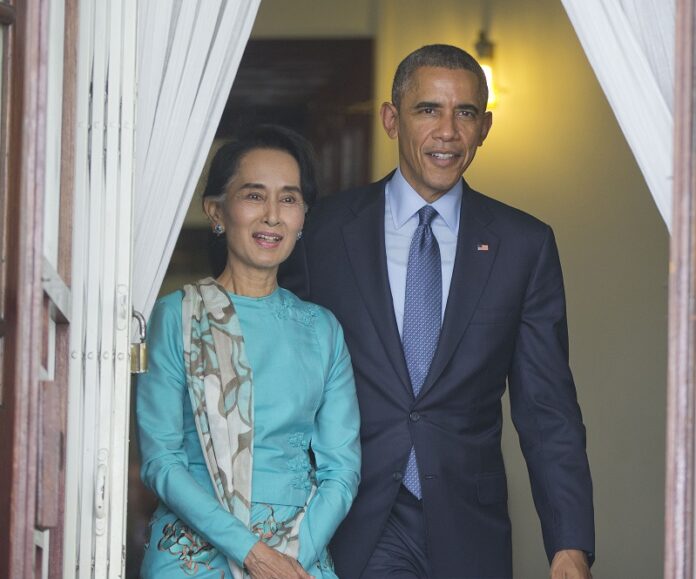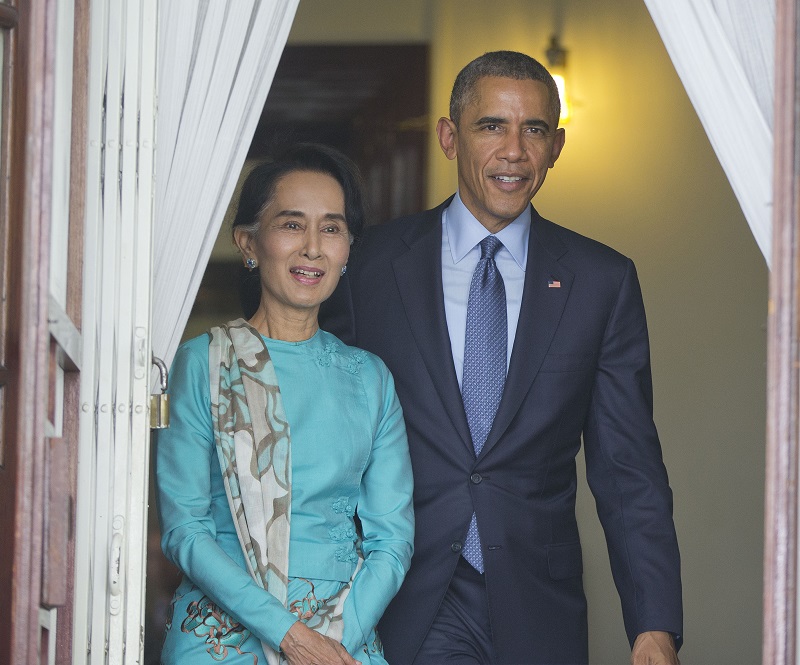 WASHINGTON — Aung San Suu Kyi's latest visit to Washington signals her transformation from long-imprisoned heroine of Myanmar's democracy struggle to a national leader focused on economic growth.
President Barack Obama will meet with Suu Kyi at the White House on Wednesday to discuss rolling back more of the sanctions that were applied when the nation was under military rule. Suu Kyi will also be courting the American business community at a dinner where tables go for as much as $25,000.
Suu Kyi's party swept historic elections last November, and the visit by the 71-year old Nobel peace laureate, deeply respected in Washington, is a crowning occasion in the administration's support for Myanmar's shift from pariah state to democracy, which it views as a major foreign policy achievement.
The U.S. has eased economic sanctions on the country also known as Burma since political reforms began five years ago but it still restricts dealings with military-owned companies and dozens of officials and associates of the former ruling junta. U.S. companies and banks remain leery of involvement in one of Asia's last untapped markets.
Human rights groups, however, say there are powerful reasons for retaining sanctions. Military abuses continue in ethnic minority regions. Rohingya Muslims remain displaced by sectarian violence and denied citizenship.
Deputy National Security Adviser Ben Rhodes said the U.S. wants to balance concerns about the "outsized" role of the military in politics and the economy without impeding growth and offering a "democratic dividend" for an impoverished population.
"We hear frequently that the ongoing sanctions regime serves as a chill on investment from the United States and in some cases from other international firms, and so we want to make sure that our sanctions are not preventing the type of economic development and investment that we believe can improve the livelihoods of the people of Burma," Rhodes said Tuesday, adding that the administration's decisions would be guided by consultation with Suu Kyi and her government.
Suu Kyi, who will also be meeting with lawmakers, Vice President Joe Biden and Secretary of State John Kerry, last visited Washington in 2012 when she was still opposition leader. On that occasion, she was presented with the Congressional Gold Medal, the legislature's highest civilian honor, which she had been awarded in 2008 while under house arrest.
Now she meets Obama as the de facto leader of the country with the title of state counsellor although a junta-era constitution still enshrines the military's role in politics and bars her from the presidency. When Obama last visited Myanmarin November 2014, he voiced support for constitutional reform.
Suu Kyi's stance on sanctions is unclear. When she met Kerry in Myanmar in May, Suu Kyi said that the U.S. was keeping sanctions not to hurt but to "help us," and that if the country was on the right path, sanctions should be lifted "in good time."
Her government is believed to support extension of U.S. duty-free benefits to help spur still meager trade with the U.S. Two-way goods trade with Myanmar totaled just $227 million in 2015, and U.S. companies account for less than 1 percent of total foreign investment.
Suu Kyi will speak on her government's priorities at a dinner Thursday organized by U.S. Chamber of Commerce and the U.S.-ASEAN Business Council – a group that supports American business ties with Southeast Asia. The council offered companies the chance to book a table for eight and a seat at an off-the-record round-table with Suu Kyi for $25,000.
That event perhaps typifies the widening gulf between Suu Kyi and rights activists who championed her cause when she was under house arrest.
"With the democracy icon having won a popular mandate to govern and often taking the sole lead in shaping the civilian government's policies, a number of civil society leaders feel excluded, ironically as the country moves toward greater democracy," the Center for Strategic and International Studies think tank said in a report this week.
Rights activists are speaking out in support of keeping sanctions. Global Witness said Tuesday that U.S. industry lobbying to roll back sanctions before critical reforms have kicked in risks undoing the country's fragile progress to democracy. Last year, the transparency watchdog reported that Myanmar's jade industry is worth nearly half of the nation's economic output and remains firmly in the grip of military elite, U.S.-sanctioned drug lords and crony companies.
U.S. sanctions currently bar the import of jade and gemstones from Myanmar.
Suu Kyi enjoys deep respect among U.S. lawmakers who were instrumental in the imposition of sanctions in the first place and they will likely follow her lead on whether they should be lifted. Lawmakers engaged on Myanmar policy are deeply suspicious about opening up engagement between the U.S. and Myanmar militaries.
"I certainly believe it would be premature to get rid of all the sanctions at this point," said Democratic Rep. Joe Crowley of New York, a prominent voice on the issue in Congress. "I have very strong reservations about military-to-military cooperation."
Story: Matthew Pennington