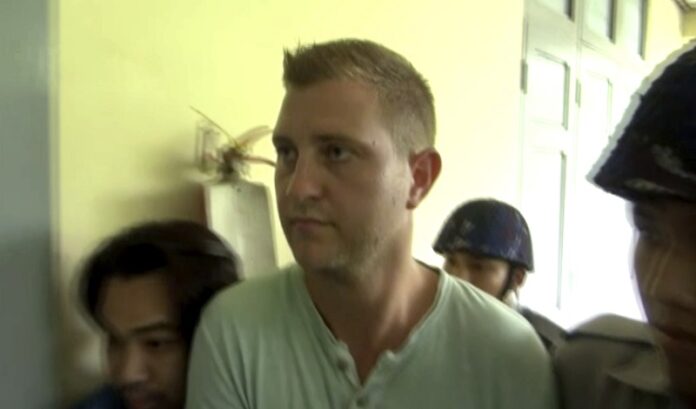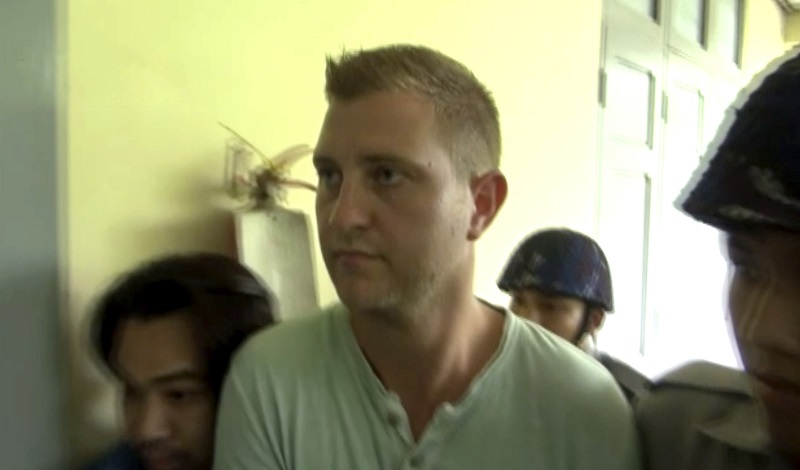 MANDALAY, Myanmar — A Myanmar court sentenced a Dutch citizen to three months in prison Thursday for interfering with a religious observance by unplugging an amplifier blasting a late-night Buddhist sermon near his hotel in Mandalay, the country's cultural capital.
Klaas Haytema, 30, in handcuffs, wept with his girlfriend before he left for jail.
He had been arrested in late September after a crowd gathered around his hotel in protest when the loudspeakers at a nearby religious hall were turned off.
The man who was reciting the sermon pressed charges against Haytema.
Local media reported that he apologized and said he hadn't known the loudspeakers were broadcasting religious content.
Haytema was also fined 100,000 kyats (about $100) for violating visa regulations requiring him to respect the culture.
He could have been sentenced to up to two years in prison for insulting religion in the predominantly Buddhist country, but the judge said he opted to find him guilty of a lesser charge to "show mercy."
It was unclear if Haytema would file an appeal.
Mandalay, a major tourist attraction in central Myanmar, is the country's cultural capital and the former seat of Burmese kings. It is culturally and religiously conservative.
In early 2015, a Myanmar court sentenced a New Zealand bar manager, Phil Blackwood, to two years in prison after he posted an image of Buddha wearing headphones on the bar's official Facebook page in late 2014. Blackwood was released in an amnesty earlier this year.
It is common for Buddhist groups to broadcast sermons by loudspeaker at very high volumes. One local government reportedly has proposed noise-control rules. Supporters quoted by local media said the proposal was meant to alleviate stress caused to the elderly and the ill.
A community leader involved in Haytema's case, Chit San, said he called police when tempers flared after Haytema acted.
"We could not negotiate peacefully because people were angry, so we called the police to control the situation," Chit San said. "We actually didn't want him to get arrested."