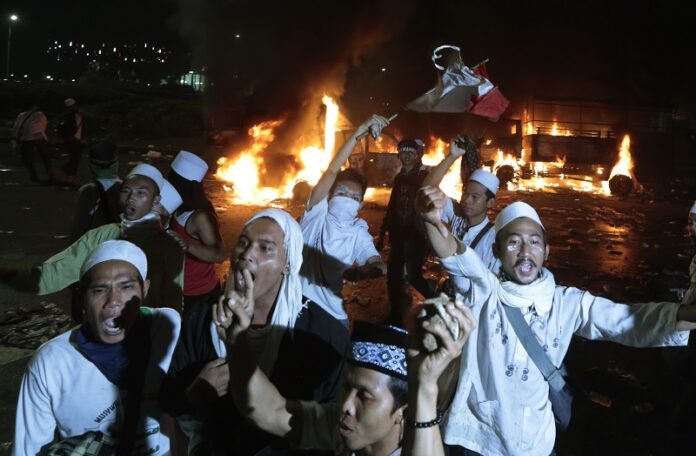 JAKARTA — Indonesia's president blamed political meddling for violence in the capital Jakarta on Friday that killed one person and injured seven following a protest by hard-line Muslims demanding the arrest of the city's minority-Christian governor for alleged blasphemy.
In a televised address, President Joko "Jokowi" Widodo said the riot showed "political actors have taken advantage of the situation." He did not identify any individual as responsible, but earlier in the week former president Susilo Bambang Yudhoyono went on national television to say he supported plans for the massive protest.
"They should have dispersed, but instead they turned to rioting," Jokowi said of the protesters.
Jakarta police spokesman Awi Setiyono said an elderly man died during the violence, possibly from the effects of tear gas. He said four civilians and three police officers were injured.
Clashes broke out between police and hard-core protesters who refused to disperse following nightfall. Police fired tear gas and water cannons and protesters set alight three police vehicles and piles of rubbish left behind from the protest, which drew tens of thousands of people.
Indonesia, with a population of more than 250 million people, is the world's most populous Muslim nation. Most people practice a moderate form of Islam but a vocal minority wants to impose a stricter interpretation.
Setiyono said police responded after protesters near the presidential palace threw stones, bamboo sticks and bottles. The confrontation subsided after a protest leader appealed for calm.
MetroTV reported that a mob tried to enter the housing complex where Jakarta Gov. Basuki "Ahok" Tjahaja Purnama lives in northern Jakarta but were stopped by police, who fired tear gas. Setiyono said rioting in north Jakarta involving the looting of a convenience store and damage to police vehicles had been brought under control but live TV footage showed a standoff continuing between police and a mob in the area.
Fearing violence, police put on a show of force for the protest, supported by soldiers and public order officers, while embassies closed, some shops were shuttered and Jakarta's normally traffic-clogged streets were nearly empty of cars.
The predominantly male demonstrators, most wearing white shirts and skull caps, had massed at the Istiqlal Mosque for the protest following weekly Friday prayers and marched on the nearby presidential palace. Large protests also took place in other cities including Medan on Sumatra, Makassar in Sulawesi and Malang in East Java.
The accusation of blasphemy against Ahok, an ethnic Chinese and minority Christian who is an ally of the president, has galvanized his political opponents in the Muslim-majority nation of 250 million, and given a notorious group of hard-liners a national stage.
The Islamic Defenders Front, a vigilante group that wants to impose Shariah law, is demanding Ahok's arrest after a video circulated online in which he joked to an audience about a passage in the Quran that could be interpreted as prohibiting Muslims from accepting non-Muslims as leaders. The governor has apologized for the comment and met with police.
Ahok, who is seeking a second term as Jakarta governor, is popular with the city's middle class. He is adored as a blunt speaker who doesn't tolerate corruption and articulates a vision of making the chaotic, dysfunctional city more like clean, orderly and efficient Singapore.
But the anti-corruption stance has made him enemies, and the evictions of thousands of the city's poorest people to make way for urban improvement has stoked anger and resentment and played to a stereotype of Chinese as exploiters ofIndonesia's poor Muslim masses.
On the national stage, Ahok is ranged against former Yudhoyono, the former president, whose son is a candidate for Jakarta governor, a position that is a stepping stone to national leadership.
Story: Niniek Karmini, Dita Alangkara