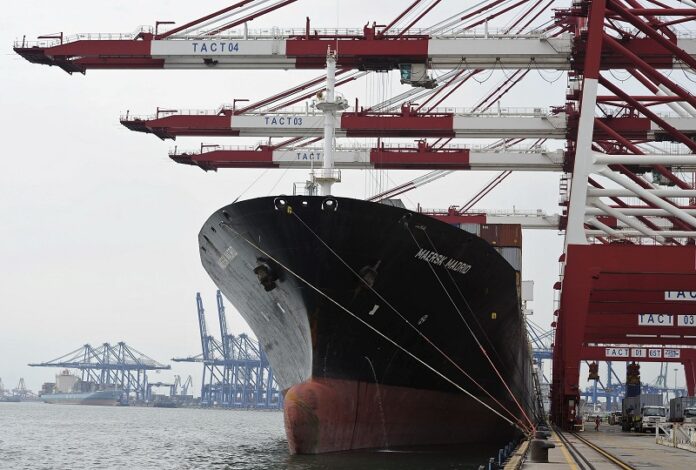 BEIJING — China's exports fell again in October in a fresh sign that weak global demand is complicating efforts by Beijing leaders to shore up economic growth and reduce reliance on trade and investment.
Exports contracted by 7.3 percent from a year earlier to USD $178.1 billion, an improvement from September's 10 percent decline, customs data showed Tuesday. Imports fell 1.4 percent to USD $129.1 billion, compared with the previous month's 1.9 percent decline.
"Goods exports improved somewhat in October after the major setback in September, but not enough to prevent a further loss of momentum and underscoring that the recent trend toward somewhat stronger global demand growth remains fragile," Louis Kuijs of Oxford Economics said in a report.
Growth in the world's second-largest economy held steady at 6.7 percent in the three months ending in September, but that was the lowest quarterly level since the 2008 global crisis. Growth was shored up by consumer spending and a bank lending boom but forecasters expect it to weaken because regulators are trying to cool a surge in real estate prices and credit.
Exports for the first 10 months of this year are down 7.7 percent from the same period of last year, while imports are off 7.5 percent.
China's global trade surplus widened to USD $49 billion in October from September's USD $42 billion. The surplus with the United States was USD $23.7 billion and that with the 27-nation European Union, China's biggest trading partner, was USD $12.1 billion.
Chinese leaders want to reduce reliance on trade but their plans call for keeping exports stable to avoid politically dangerous job losses.
The trade weakness has temporarily set back reform plans by forcing Beijing to shore up growth with higher spending on public works construction and bank lending.
Chinese leaders have warned the economic outlook will be "L-shaped," meaning its five-year-long decline is expected to level off but there is no sharp rebound in sight.
"Imports continued to do better than exports, signaling that domestic demand held up well through October, although we expect downward pressures on domestic demand to remain going forward," said Kuijs.
Story: Joe McDonald