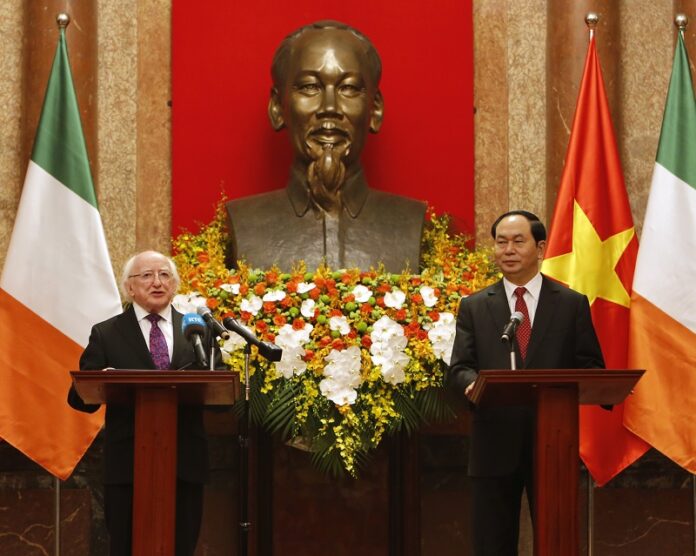 HANOI, Vietnam — Vietnam's government is scrapping plans to construct the country's first two nuclear power plants, citing slowing demand for electricity and the declining price of other sources of energy, state media reported Thursday.
The state-controlled Tuoi Tre newspaper said the lawmaking National Assembly will ratify the government decision later this month.
In 2009, the assembly approved construction of two nuclear power plants with a combined capacity of 4,000 megawatts. A contract to build the first plant was awarded to companies from Russia and one for the second plant was given to companies from Japan.
Construction was initially scheduled to start in 2014, but has been delayed several times. In early 2014, the government pushed back the plants' construction to 2020.
The newspaper quoted Duong Quang Thanh, head of the state-run Electricity of Vietnam Group, which was to pay for the plants, as saying they are not economically viable because of other cheaper sources of power.
Thanh said when the plants were approved in 2009, the government had projected power demand growth of 17-20 percent per year, but that has been revised to 11 percent for 2016-2020 and 7-8 percent in 2021-2030.
"Currently, power demand growth is not high, while domestically generated and imported sources of energy are sufficient for social-economic development. In particular, prices of imported sources of energy are much cheaper now," he said. "Nuclear power, therefore, cannot compete economically with other sources of energy."
Currently, coal, oil and gas-fired power plants produce about half of Vietnam's power needs. Much of the rest comes from hydropower.
Tuoi Tre quoted Le Hong Tinh, vice chairman of the National Assembly's Science, Technology and Environment Committee, as saying that another reason for the government's decision was that the price tag for the plants had doubled to $18 billion.