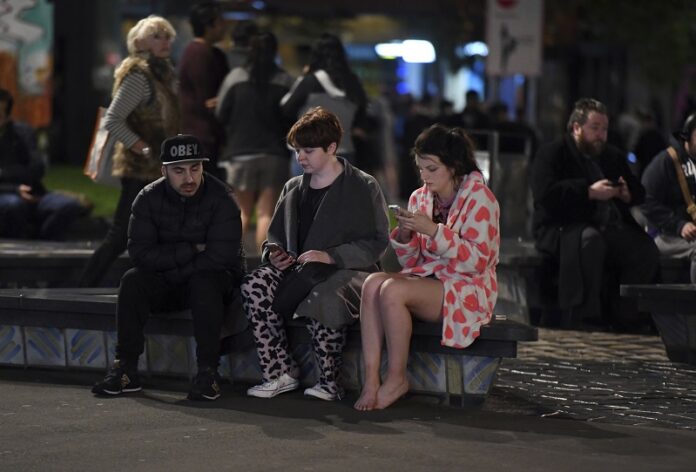 WELLINGTON, New Zealand — A powerful earthquake struck New Zealand's South Island early Monday, shaking residents awake, causing damage to buildings and prompting emergency services to warn people along the coast to move to higher ground to avoid tsunami waves.
The magnitude-7.8 earthquake struck just after midnight in a mostly rural area close to the city of Christchurch, but appeared to be more strongly felt in Wellington, the capital, more than 200 kilometers to the north. The quake was followed by a number of strong aftershocks.
The quake temporarily knocked out New Zealand's emergency call number, 111, police reported. It caused items to fall from shelves and windows to break in Wellington, and forced hundreds of tourists onto the streets as hotels were evacuated. There were no immediate reports of serious injuries in the city.
New Zealand's Ministry of Civil Defense and Emergency Management reported that a tsunami wave struck at about 1:50am and warned residents living in low-lying areas anywhere along the country's east coast to move to higher ground.
Information from the Pacific Tsunami Warning Center indicated that the tsunami waves could be highest around the South Island town of Kaikoura, at about 1.5 meters. The Hawaii-based center said it did not expect the quake to generate a destructive Pacific-wide tsunami.
Within New Zealand, there was confusion about the tsunami threat.
The ministry had earlier sent out a message on Twitter saying there was no tsunami threat to the country. But then it sent out another message – "situation has changed – tsunami is possible" – before reporting that a tsunami had hit.
The ministry said people on the coast near the epicenter could expect waves of between 3 and 5 meters.
While there were no immediate reports of any major damage or injuries in Christchurch, the quake brought back memories of a magnitude-6.3 earthquake that struck the city in 2011, destroying much of the downtown area and killing 185 people in one of New Zealand's worst disasters. Monday's quake was centered farther away from Christchurch than the one in 2011, which caused an estimated $25 billion in damage.
As Monday's quake hit, Christchurch resident Hannah Gin had just sat down in her living room to watch a replay of this weekend's All Blacks versus Italy rugby match when her house started shaking. Upstairs, her mother let out a scream.
Gin, a 24-year-old lifelong Christchurch resident, is accustomed to quakes, so she said she sat calmly and waited, figuring the rumbling would stop in a few seconds. Instead, the shaking just went on and on – for at least three minutes, according to the clock on her phone, she said by phone.
The quake was far less violent than the one that struck her city in 2011, Gin said, adding that there was no jarring up and down or side to side, just a long, rolling sensation. But it went on for much longer than the typical quakes that strike the area, she said. She was less concerned about running for cover than she was about vomiting from the motion sickness, she said with a chuckle.
"I could hear the sliding door sliding back and forth and we've got washing hanging up and I could see the washing moving," Gin said. "It just kept going and going."
She said that her house, which was damaged in the 2011 quake, did not appear to have sustained any new damage from Monday's quake. She also said she had heard from many of her friends who live in the city, and all were safe.
"As far as I know, everyone's fine," she said. "We're all just really shaken."
In Wellington, 214 kilometers north of the quake's epicenter, power was knocked out in some places, and some windows were smashed and some chimneys collapsed.
The quake was centered 93 kilometers northeast of Christchurch, according to the U.S. Geological Survey.
The USGS initially estimated that the earthquake had a magnitude of 7.4 before revising it to 7.8. It said the quake struck at a depth of 23 kilometers, after initially putting the depth at 10 kilometers. Earthquakes tend to be more strongly felt on the surface when they're shallow.
New Zealand sits on the "Ring of Fire," an arc of seismic faults around the Pacific Ocean where earthquakes are common.
Story: Nick Perry, additional reporting Kristen Gelineau