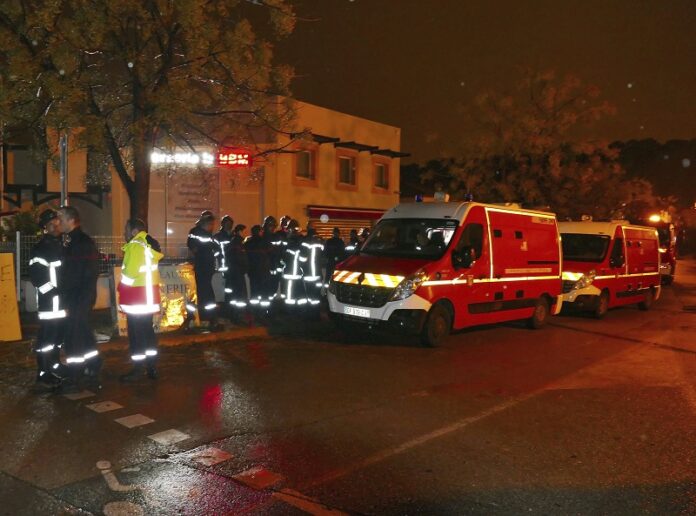 PARIS — French police searched Friday for a masked gunman suspected of stabbing an elderly woman to death in a retirement home for Catholic missionaries in southern France, authorities said.
An unusually large police operation was launched to search for the suspected attacker, believed to be armed with a shotgun and a knife. The identity of the assailant and motive for the killing were unclear.
The press service for the gendarmes, or military police, couldn't say whether the incident was linked to a terrorist act. Security at religious and other sites has been increased after a string of Islamic extremist attacks on France.
A gendarme service spokesman said early Friday that more than 100 members of the security forces were dispatched to the village of Montferrier-sur-Lez, near the city of Montpellier in the southern tip of France. The spokesman was not authorized to be publicly named.
Prosecutor Christophe Barret told reporters that a woman who works at the retirement home called police Thursday night to say she had been attacked.
When the officers arrived, they found the body of another woman, gagged and tied up outside the building with three stab wounds, the gendarme spokesman said.
The worker who alerted police did not suffer serious injuries but was deeply rattled, and no one else at the residence was harmed, the prosecutor said in televised remarks carried on the website of Midi Libre newspaper.
Security forces searched the complex but did not find the assailant. The spokesman said the about 60 residents of the facility are out of danger, and the search is continuing in a larger perimeter with help from a helicopter and police dogs.
The residence, called "Green Oaks," is operated by the African Missions Society, and takes in retired priests, nuns and others who have worked on missions in Africa.
Olivier Ribadeau Dumas, spokesman for the French Catholic bishops' conference, tweeted condolences for the woman killed and added, "our prayers reach out also to the missionaries attacked in their retirement home in the Herault (region). God give them all peace."
France has been under a state of emergency for a year since Islamic State group attacks on Paris killed 130 people. Another Islamic State attack in July targeted a Catholic church in Normandy, where two attackers slit a priest's throat and held elderly parishioners hostage.
Story: Philippe Sotto