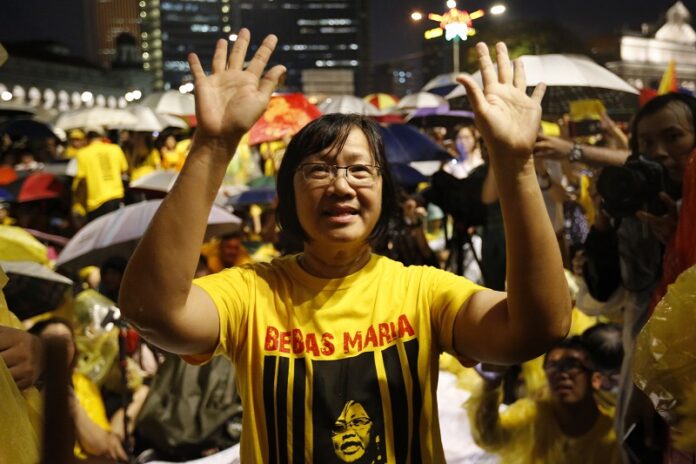 KUALA LUMPUR — The head of Malaysian electoral reform group Bersih, which led a mass anti-government rally this month, has been freed after being held for 10 days without trial under a security law meant for terrorists.
Maria Chin was detained Nov. 18 for "activities detrimental to parliamentary democracy," just a day before thousands of protesters took to Kuala Lumpur's streets to demand the resignation of Prime Minister Najib Razak over a financial scandal. Police said 15,500 people protested, but Bersih estimated the crowd at 120,000.
Chin's release Monday came a day before a court hearing to challenge her detention under the Security Offences Act.
Amnesty International hailed Chin's release from what it called a "farcical detention" and said Tuesday that the government must drop any charges against her.
"They should also stop using national security or other repressive laws against government critics for the peaceful exercise of their rights to freedom of expression and assembly," it said in a statement.
Shortly after her release, Chin met with hundreds of supporters in Kuala Lumpur and thanked them for holding nightly candlelight vigils to demand her release. Wearing the trademark yellow Bersih T-shirt, she vowed to fight for the abolition of the security law and to press for political reforms. Bersih means clean in the Malay language.
"My detention is illegal and a violation of my rights," she said.
Najib has kept an iron grip since graft allegations emerged two years ago involving the indebted 1MDB state fund. He founded the fund in 2009 to promote economic development, but it accumulated billions in debts.
The investigations into 1MDB in the U.S. and several other countries are centered on allegations of a global embezzlement and money-laundering scheme.
The U.S. Justice Department said that at least USD $3.5 billion had been stolen from 1MDB by people close to Najib and initiated action in July to seize $1.3 billion it said was taken from the fund to buy assets in the U.S.
The U.S. government complaints also said that more than USD $700 million had landed in the accounts of "Malaysian Official 1." They did not name the official, but appear to be referring to Najib.