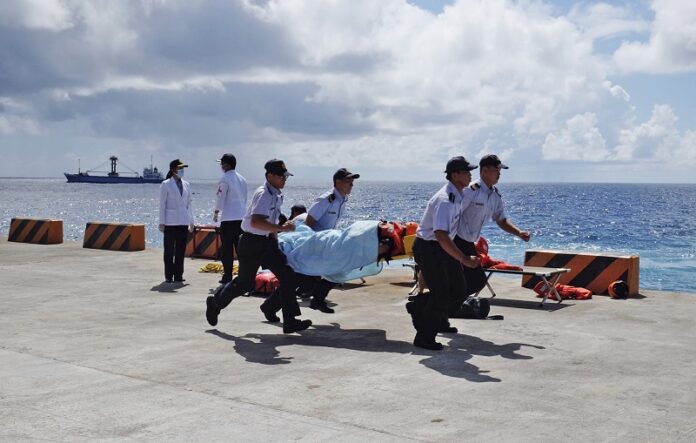 TAIPING ISLAND — Taiwan held a search-and-rescue exercise in the South China Sea on Tuesday as part of efforts to cement its hold over a key island in the strategically vital waterbody.
Eight vessels and three aircraft took part in the drill simulating a fire aboard a cargo ship that forced crew members to seek safety on Taiping in the Spratly island group.
Both coast guard and navy ships participated in the exercise.
While Taiwan claims all of the Spratlys, it only occupies Taiping and hasn't challenged the presence of forces from China and other nations on other islands in the group. Coast guard head Lee Chung-wei told journalists that Taiwan's sovereignty over Taiping is "undeniable," but that it wants to turn the island into a base for humanitarian relief missions in the area.
"The purpose of this drill is to tell international society that we are keen to conduct humanitarian relief on the island. We want to maintain peace in this region and put away disputes," Lee said.
In recent years, Taiwan's chief rival, China, has been aggressively pushing its claim to virtually the entire South China Sea, putting it in conflict with neighbors Vietnam and the Philippines. Malaysia and Brunei also claim parts of the South China Sea, while Indonesia has become increasingly assertive in defending its exclusive economic zone that encompasses rich fisheries and a potential wealth of mineral resources.
Story: Johnson Lai