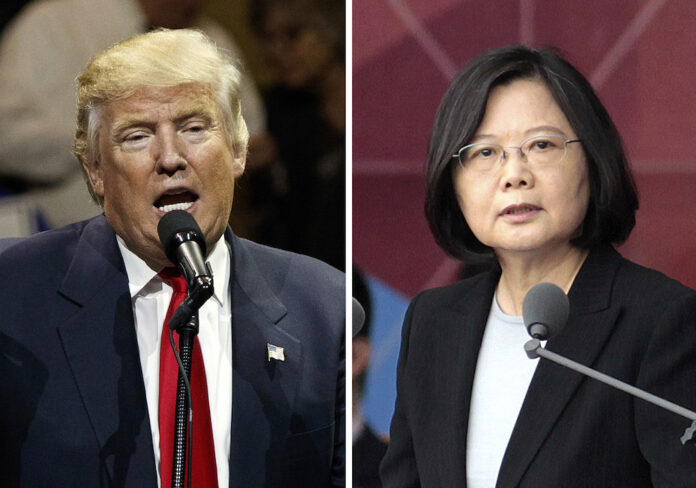 BEIJING — An official Chinese newspaper called Donald Trump "as ignorant as a child" on Monday after the president-elect again suggested that he was reconsidering how America deals with Taiwan, one of the most sensitive issues in the relationship between the U.S. and China.
The Global Times, a Communist Party-controlled newspaper, was responding to Trump's comments in a television interview Sunday that he wouldn't feel "bound by a one-China policy unless we make a deal with China having to do with other things, including trade."
Beijing was already angered by Trump's Dec. 2 call with Taiwanese President Tsai Ing-wen, the first time an American president or president-elect has publicly spoken to a Taiwanese leader in nearly four decades. China considers the self-governing island to be its territory and any reference to a separate Taiwanese head of state to be a grave insult.
Hours after Trump's interview on "Fox News Sunday" aired, the Global Times published a Chinese-language editorial headlined: "Trump, please listen clearly: 'One China' cannot be traded."
"China needs to launch a resolute struggle with him," the editorial said. "Only after he's hit some obstacles and truly understands that China and the rest of the world are not to be bullied will he gain some perception."
"Many people might be surprised at how the new U.S. leader is truly a 'businessman' through-and-through," the paper said, referring to Trump's suggestion of using the "one China" policy as a bargaining chip. "But in the field of diplomacy, he is as ignorant as a child."
The Global Times, which is published by the Communist Party's mouthpiece, the People's Daily, often runs commentaries that target nationalistic sentiment with provocative language.
Chinese officials have had a muted response so far to Trump, who followed the Tsai phone call with two tweets accusing China of manipulating its currency, taxing American imports and provoking tensions in the South China Sea. Foreign Minister Wang Yi blamed the call on a Taiwanese "trick," and the ministry has repeatedly reaffirmed that Taiwan is part of China without directly criticizing the president-elect.
Trump appeared Sunday to back off reports that his call with Tsai was planned well in advance by advisers positioning him to confront China over the island. He said he heard about the call "probably an hour or two before."
"Why should some other nation be able to say I can't take a call?" he said. "I think it actually would've been very disrespectful, to be honest with you, not taking it."
The Chinese foreign ministry did not immediately respond to faxed questions Monday about the interview.
Dali Yang, a political science professor at the University of Chicago, said that Taiwan would remain at the "very core of China's national interests," but that Chinese leaders would downplay Trump's statements before he takes office, given the number of issues facing both countries, from trade to climate change.
"The Chinese government actually so far has been very careful not to mobilize public opinion very much at this point," Yang said. "Once they mobilize public opinion, they also make it very hard for them to have room for a maneuver."
Story: Nomaan Merchant