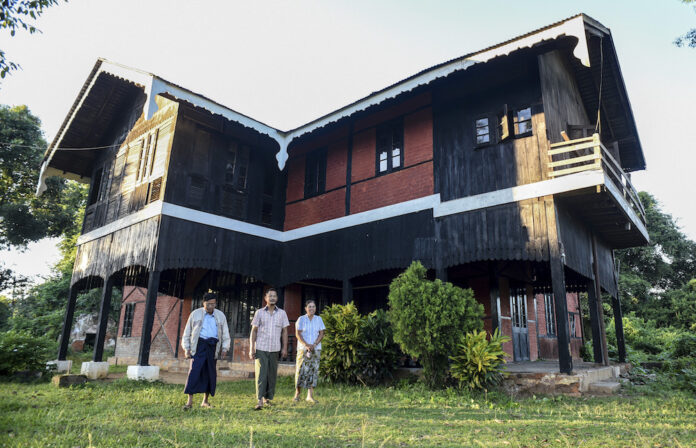 KATHA, Myanmar — In the 1990s, Nyo Ko Naing noticed that the handful of foreign tourists who made it to his remote hometown were carrying their own maps and looked like they were searching for something. Someone, it turns out, by the name of George Orwell.
Katha was Eric Blair's last posting in the Imperial Police before he sailed back to England in 1927, adopted the nom de plume Orwell and launched a writing career that would produce powerful novels and commentary. Seven years after leaving the sleepy town on the Irrawaddy River, he immortalized it as the setting of his first novel, the vehemently anti-colonial "Burmese Days," though he called it not Katha but "Kyauktada."
The British Club, where much of the novel's scheming, fighting, drinking and sweating takes place, still stands, as do other sites mentioned including a tennis court, a pagoda and a prison. A house believed to have been Orwell's home in Katha remains in use.
Nyo Ko Naing, a graphic designer and cartoonist, didn't know much about "Burmese Days" at first, but soon grasped how important it was to the future of the town.
He has since become the town's preservationist, in-house historian, amateur Orwell scholar and literary tour guide, keen to market Katha as a tourist destination. He's helping to renovate the 19th-century house of the former British commissioner for use as a museum that is expected to open next year.
"It is not easy to get attention from the world," the 45-year-old said in a recent interview. "So it's like Katha won the lottery."
Orwell-related tourism has grown in Myanmar, also known as Burma, since a half-century of military rule ended in 2011, though numbers remain small. Nyo Ko Naing estimates that Katha sees 300 to 400 such visitors per month.
In 2012, he founded the Katha Heritage Trust and mounted a campaign through the media to save the commissioner's house from a local businessman who wanted to turn the property into a skating rink.
The first floor is now full of archival photos, including one of Orwell as a young policeman, and several portraits of the writer painted recently by local artists.
"We're collecting materials for the museum right now, such as photos, data and other heritage of Katha. And we're also renovating that house by maintaining its own original style. That's why it takes time," he said.
"Now we have spent 4 million kyats ($3,000) and some tourists have donated," he added. "We will renovate more whenever we get money."
The museum will also focus on Katha's history, with information about nearby battles during World War II and other aspects of the area deemed significant.
Nyo Ko Naing hopes Orwell will be a magnet for foreign tourists who will linger for other attractions, such as Katha's traditional elephant camps, which the government is exploring turning into eco-tourism destinations amid a wide-ranging ban on logging.
A 12-hour train ride from Mandalay, Katha is a small, idyllic town in the Sagaing region. The atmosphere is as tranquil as the flowing Irrawaddy. As the sun sets, visitors and families stroll along the promenade as mountains darken in the distance.
In the past five years, Myanmar has been rapidly modernizing, and Katha is no exception. There are shiny new bank branches and new hotels. Mobile phone shops proliferate. Many colonial buildings have been left alone, giving the place a timeless feel, though many structures are dilapidated.
Both the tennis court and the prison are still in use. The British Club is now a local business cooperative.
The Hotel Katha, which opened last year, has seized on the Orwell connection. Built to resemble a red-brick colonial home, it offers brochures at the front desk with maps guiding visitors to key sites from the novel. Guests can read copies of "Burmese Days" and Orwell's essays in the lobby or dine at the Kyauktada Cafe & Restaurant. Meeting rooms are named "Flory," "Elizabeth," and "Macgregor," after three of the book's characters.
"I want visitors to feel like they are in the book," said the owner, Bran Aung, in a phone interview. "I want to add more about Orwell. I am still collecting."
Best known for "1984" and "Animal Farm," Orwell is also admired for his condemnation of colonialism in "Burmese Days," depicting the British denizens of Kyauktada largely as racist exploiters. Yet the novel was more read and celebrated abroad than in Burma.
Censorship was lifted in 2012. A year later, Maung Myint Kywe won the government's most prestigious literary award for his Burmese translation of "Burmese Days."
"He told me that his translation had been sleeping in the hands of the publisher for more than 30 years," Thurein Win, who has translated Orwell's essays, wrote in an email interview. Maung Myint Kywe died in 2014.
Orwell wrote darkly about British and Burmese alike. "Some Burmese don't like him for his provocative words, but others love his writing," Thurein Win said.
Nyo Ko Naing's most impressive Orwellian work may be tracking down the author's house, which he had previously confused with the commissioner's. He used a colonial-era map to pinpoint the residence as a two-story teak home on the main road, not far from the Katha Hotel.
In a twist that might amuse Orwell, it is still occupied by a police officer.
"My colleagues said that the house you are going to stay in belongs to the English writer George Orwell," said Police Chief Myint Aung, who was recently transferred to Katha. He didn't know anything about the writer, but he is embracing the former resident.
Although the home isn't officially open to tourists, he lets curious visitors poke around, and he has allowed the trust to hang a banner on the porch explaining some basic history.
"The town of George Orwell is lovely as well as interesting," the sign says.
Story: Ung Naing Soe