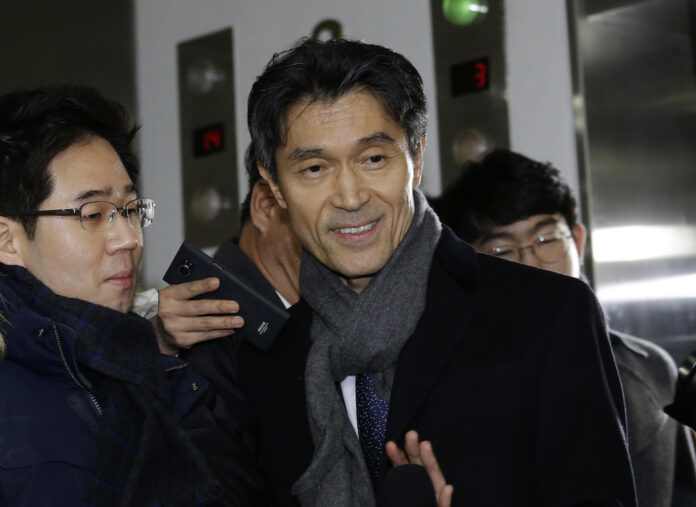 SEOUL, South Korea — South Korean investigators on Thursday summoned the country's ambassador to France as they widened their inquiry into a corruption scandal involving impeached President Park Geun-hye to include allegations her administration blacklisted thousands of artists for their political beliefs.
The special prosecution team was planning to question Mo Chul-min over a supposed blacklist of 9,000 artists deemed unfriendly to Park's administration and allegedly denied government support. Mo served as Park's senior secretary for education and culture in 2013 and 2014.
South Korea's opposition-controlled parliament impeached Park on Dec. 9, weeks after state prosecutors accused her of colluding with a longtime confidante to extort money and favors from companies and allow the friend to interfere with government affairs.
The political turmoil came after years of frustration over Park's heavy-handed leadership style that critics blamed for setbacks in freedom of speech. Her government pushed to dissolve a leftist party and arrested union leaders, while journalists were pressured with legal and other threats.
Artists have complained about censorship. In 2014, organizers of the Busan International Film Festival clashed with the city's mayor who unsuccessfully tried to block a documentary on a ferry sinking earlier that year that killed more than 300 people, a disaster partially blamed on government incompetence and corruption.
The mayor of another city, Gwangju, recently acknowledged he was pressured by the government to exclude a painting satirizing Park from an art fair in 2014.
Park's alleged backlist reportedly included some of South Korea's most famous cultural figures, including "Oldboy" film director Park Chan-wook and poet Ko Un, whose name frequently surfaces in discussions for the Nobel literature prize.
They had signed statements criticizing the government for its handling of the 2014 ferry disaster and supporting opposition candidates during presidential and mayoral elections, according to Do Jong-hwan, an opposition lawmaker who broke the list to the media.
Artists' groups say that the allegedly blacklisted individuals, including actors, painters and musicians, have been inexplicably denied financial support available under government programs and prevented from using state venues.
Former Culture Minister Yoo Jinryong, who stepped down in 2014 amid a fallout with Park, said in a recent radio interview that the blacklist was passed to the ministry through Mo or another presidential secretary.
Cho Yoonsun, the current culture minister who was Park's senior secretary for political affairs from June 2014 to May 2015, denied Yoo's accusation that she was involved in creating the list, telling lawmakers she has never seen such a list.
The special prosecution team began investigating the blacklist allegations following a complaint submitted by a group of artists.
Investigators also summoned Kim Jae-youl, chief of the sports marketing unit of Samsung Group, as they look further into allegations that the business giant sponsored the president's jailed friend, Choi Soon-sil, to receive government favors.
They asked a Seoul court to issue an arrest warrant for former Health Minister Moon Hyung-pyo.
Moon faces charges that he pressured the National Pension Service to support a controversial merger deal between two Samsung affiliates last year, even though the fund's stake in one of the companies lost an estimated hundreds of millions of dollars in value. The merger helped Samsung scion Lee Jae-yong promote a father-to-son transfer of leadership and boost corporate wealth at the group.