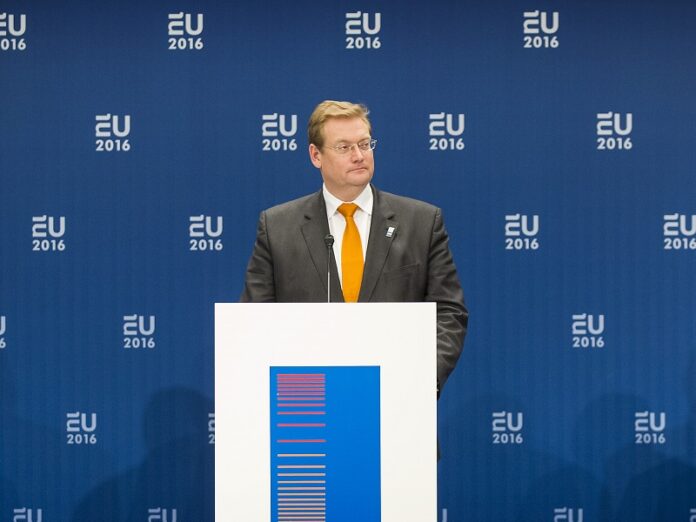 THE HAGUE, Netherlands — The Dutch security and justice minister resigned Thursday amid allegations that he was involved in withholding information from lawmakers, a potentially damaging blow to the administration of Prime Minister Mark Rutte less than two months before a national election.
Security and Justice Minister Ard van der Steur quit days after a new book presented evidence of his involvement in drafting responses to Parliament's questions about a deal prosecutors made with a drug trafficker in 2000.
Opposition lawmakers used a debate on the still-disputed deal in the lower house of Parliament Thursday to attack the credibility not only of Van der Steur, but also of his political boss, Prime Minister Mark Rutte.
Populist anti-Islam lawmaker Geert Wilders, whose Party for Freedom is riding high in polls ahead of the March 15 election, called Rutte "by a long way, the most untrustworthy premier the Netherlands has had in a long time."
The deal at the heart of the discussion happened 17 years ago and involved a convicted drug trafficker who was paid millions of guilders by prosecutors who said they actually were trying to strip him of his criminal profits.
The long-running controversy has been a thorn in the side of Rutte's government. A previous justice minister and his deputy quit over their roles in the scandal.
Van der Steur's alleged actions happened in 2015, when he was still a lawmaker. Van der Steur said he made annotations to a draft of written responses to lawmakers' questions, but denied advising the government to withhold any information from Parliament.
Van der Steur choked with emotion as he told lawmakers that he wanted to use Thursday's debate to defend himself before quitting, saying that his ministry and others in the Dutch security services need a minister who enjoys the full trust of Parliament.
"I don't feel that trust," he said.
Rutte, who defended the minister during the debate, patted Van der Steur on the back and hugged him as he left the chamber.
Story: Mike Corder