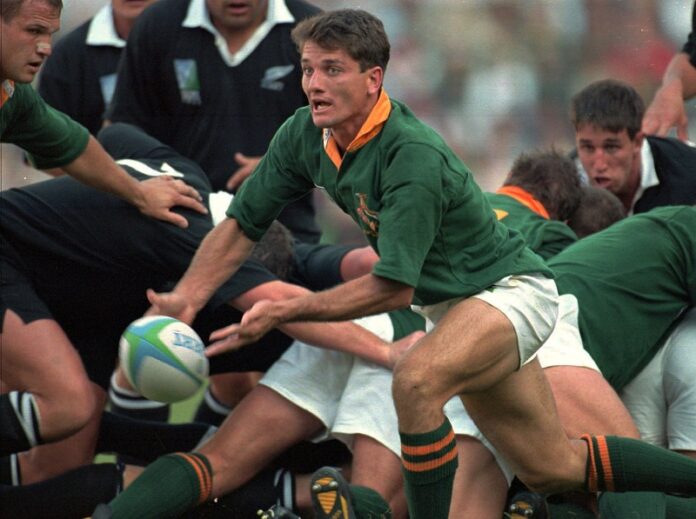 Joost van der Westhuizen, who won the 1995 World Cup with South Africa as Nelson Mandela looked on, has died after a six-year-battle with motor neuron disease. He was 45.
SA Rugby announced the death on Monday.
The scrumhalf distinguished himself in the epic final with a scything tackle on Jonah Lomu, New Zealand's colossal wing, and by delivering the pass to Joel Stransky for the winning dropped goal in extra time.
The emotional 15-12 victory helped rally South Africans of all colors behind a nation emerging from apartheid.
Newly elected President Mandela famously donned a Springbok jersey and delightedly waved clenched fists as captain Francois Pienaar lifted the Webb Ellis Cup. The drama inspired Clint Eastwood's movie "Invictus."
"South Africa has lost a legend and one of the best rugby players that the country has ever produced," said South African President Jacob Zuma. "On behalf of the Government and the people of South Africa, our heartfelt condolences to Mr van der Westhuizen's family. May his soul rest in peace."
SA Rugby president Mark Alexander said he would be remembered as one of the greatest Springboks. "He also became an inspiration and hero to many fellow sufferers of this terrible disease as well as to those unaffected. We all marveled at his bravery, his fortitude and his uncomplaining acceptance of this terrible burden.
"It's a sad day for rugby in South Africa and across the globe as we say goodbye to a legend of the Springboks," Alexander added. "Our condolences go to his family and friends at this sad, sad time."
Uncommonly tall for a scrumhalf, standing over 6 feet (1.82 meters), Van der Westhuizen was fast and attack-minded, but also a bruiser who relished the physical confrontation of rugby. His 89 tests and 38 tries for South Africa were both national records when he retired in 2003.
He captained his country in 10 tests and played at three World Cups. In all, he played 111 games in Springbok green and gold.
"He was very quick, always knew where the gaps were and could create something out of nothing," the South African Rugby Union said in its official biography when Van der Westhuizen retired.
Told by doctors in 2011 that MND might kill him within two years, Van der Westhuizen responded: "Stuff them. I will decide when I go."
He used a wheel chair in his last years and dedicated himself to his young children and J9 foundation that helps MND sufferers.
He told interviewers he had come to terms with his disease. He also won admirers for his honesty in admitting to mistakes in his personal life.
Although a target of overseas clubs when rugby went professional after the '95 World Cup, Van der Westhuizen never left his home team in Pretoria, where he was born, schooled and played all his provincial rugby for his beloved Blue Bulls team.
Story: Gerald Imray