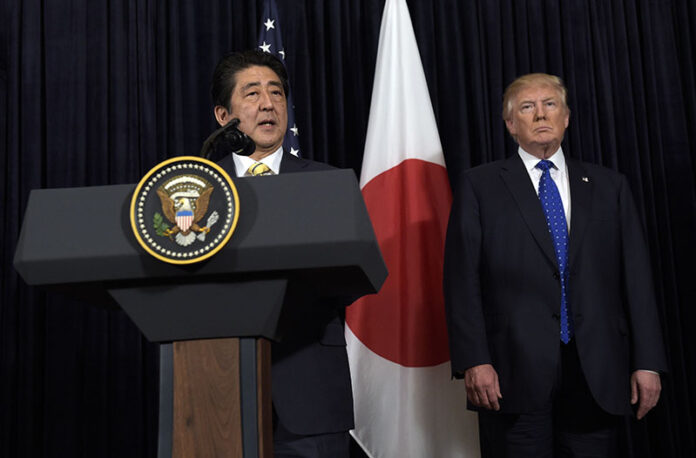 PALM BEACH — For most of the day President Donald Trump and Japanese Prime Minister Shinzo Abe used golf under the Florida sun to show the world the U.S.-Japan alliance remained strong. Then events half-a-world away provided a more significant example of cooperation.
After North Korea reportedly launched a ballistic missile, the two leaders appeared for hastily prepared statements in a ballroom of Trump's south Florida estate. Abe spoke first and longest, though his statement was terse.
"North Korea's most recent missile launch is absolutely intolerable," Abe said through a translator. He added that the North must comply fully with relevant U.N. Security Council resolutions, but also noted that Trump had assured him that the U.S. supported Japan.
"President Trump and I myself completely share the view that we are going to promote further cooperation between the two nations. And also we are going to further reinforce our alliance," he said.
Trump followed Abe with even fewer words, saying in part: "I just want everybody to understand and fully know that the United States of America stands behind Japan, its great ally, 100 percent." With that, they left the room, a surprise of sorts given that the usually outspoken Trump neither condemned nor denounced the launch.
In the opening days of his presidency, Trump's diplomacy had a rocky stretch that included contentious phone calls with the leaders of Mexico and Australia. In contrast, the first visit by a foreign leader at his Mar-a-Lago estate was a friendly weekend of meetings, dinners and golf that suggested the new president was willing to invest time in developing close personal relationships with leaders he feels he can work with.
The president and first lady Melania Trump hosted a delegation dinner with Abe and his wife on Saturday night at his Mar-a-Lago estate. At the time Trump ignored a shouted question about the North Korea launch. Focusing on the positive, he said the Abe visit had been "very, very good" and that he and the Japanese leader "got to know each other very, very well" over their two days of meals, meetings and golfing.
Trump and Abe, both frequent golfers, left Mar-a-Lago early Saturday morning and headed north to one of Trump's golf courses in Jupiter, Florida. Reporters and photographers from both countries, who were held in a room with blacked-out windows, did not catch a glimpse of the pair as they played. But Trump later posted a photo of them giving each other a high-five on the golf course and tweeted, "Having a great time hosting Prime Minister Shinzo Abe in the United States!" Pro golfer Ernie Els joined them on the greens.
In a sign of unity, neither Japanese nor White House officials volunteered the pair's final score. Instead, the White House issued a statement saying the day was "both relaxing and productive" and that Trump and Abe had "had great conversations on a wide range of subjects."
As their husbands golfed, Mrs. Trump and Akie Abe toured the Morikami Museum and Japanese Gardens in nearby Delray Beach. It was Mrs. Trump's first solo event as first lady. The women had lunch together at Mar-a-Lago.
The two couples touched down in Florida on Friday afternoon and headed straight to Mar-a-Lago, where they enjoyed a late dinner at its crowded patio restaurant. They were joined by Robert Kraft, the owner of the Super Bowl champion New England Patriots, and several interpreters. Paying members and club guests took in the scene and mingled with Trump and Abe into the night.
Trump also was scheduled to tend to other business in Florida: calling Tunisian President Beji Caid Essebsi and Colombian President Juan Manuel Santos as he continues conversations with foreign leaders.
Trump and Abe appear to have hit it off early, despite Trump's sometimes hostile rhetoric toward Japan on the campaign trail. Abe was the only world leader to meet with Trump before his inauguration, and Trump welcomed Abe to the White House with a hug.
Trump and Abe had plenty to discuss, including the defense treaty between the nations and their trade relations. One of Trump's first actions as president was to withdraw the U.S. from a 12-nation, trans-Pacific trade agreement that was negotiated by the Obama administration and strongly supported by Tokyo.
Abe has said that Japan may be open to a bilateral trade deal with the U.S., but reaching such a deal could be political difficult. Japan logged the second largest trade surplus with the U.S. last year.
Story: Jill Colvin