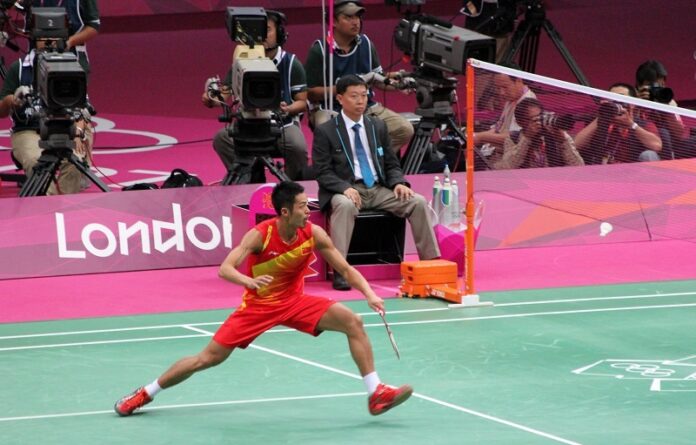 BIRMINGHAM, England — Defending champion Lin Dan was eliminated by Chinese teammate Shi Yuqi, who will play top-ranked Lee Chong Wei in the final of his first All England Open.
Shi, 12 years younger than Lin at 21, beat Lin 24-22, 21-11 in the semifinals on Saturday.
Beforehand, Chong Wei overcame Chou Tien Chen of Taiwan 10-21, 21-14, 21-9 in an hour. Chong Wei said "myself and the world want (Lin) to win" so the two best badminton players of this generation could joust for a fifth All England final.
Lin had three game points in the first game but Shi wouldn't concede. Shi pressured the six-time champion's backhand and executed too well for Lin, whose ineffective lifts to mid-court kept being smashed back for winners. Lin appeared to give up the last three points.
This was their first matchup on the tour, but Shi showed his worth in their Chinese Super League match in January when Shi won the first game, Lin edged the second, and Lin had to come from 18-14 down to win the third.
Shi is one of China's new guard, being groomed to replace Lin when the great one retires.
"I beat Lin Dan and have made it to the final," Shi said "I consider myself very, very lucky."
Chong Wei has beaten Shi in their only two matches. He will be going for his fourth All England title after victories in 2010, '11 and '14.
He was very close to not coming to the world's oldest badminton championship after tearing a ligament in his left knee on Feb. 4. But so determined was he to play one final time in his favorite tournament that less than two weeks ago he was passed fit by his doctors and coaches. Despite still playing in pain, he didn't drop a game until Chou won their first on Saturday. Chong Wei upped the pace and left Chou behind.
A new women's champion will be crowned on Sunday.
Ratchanok Intanon, the former world champion from Thailand, lost her only previous appearance in the final in 2013, while top-ranked Tai Tzu Ying of Taiwan has made it for the first time.
Ratchanok beat Akane Yamaguchi of Japan, considered a future world champion, 22-20, 21-16. Yamaguchi, who beat Ratchanok at the Olympics, led late in both games.
This marks Ratchanok's first final since April, when she became the first person to win three Superseries events in three weeks. Those titles in India, Malaysia, and Singapore lifted her to No. 1 for the first time. But the wheels fell off after that, and she endured early exits at the Asia Championships, Olympics, and Superseries Finals.
Ratchanok beat Tai in India and Malaysia during her great run, but Tai won their match at the Superseries Finals to cement the year-end No. 1 ranking.
Tai overcame Sung Ji Hyun of South Korea 11-21, 21-14, 21-14 in an hour. Tai was more aggressive in the second game and gradually pulled away, and in the decider led 4-0, 8-3, and 16-8.