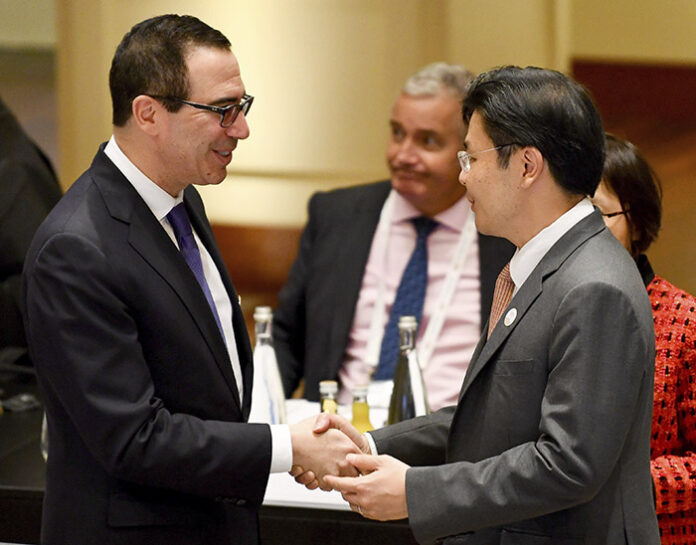 BADEN-BADEN, Germany — Financial officials from the world's biggest economies are struggling to define a common stance on trade in the face of the Trump administration's insistence that cross-border commerce must be "fair" as well as "free."
Finance ministers from the Group of 20 powers comprising more than 80 percent of the global economy debated the wording of their final joint statement on trade expected Saturday at their summit in the southern German resort town of Baden-Baden.
Officials were talking about replacing the group's longstanding opposition to "all forms" of protectionism with new wording that would reflect U.S. concerns by adding a reference to "fair" trade as well.
U.S. Treasury Secretary Steven Mnuchin says the U.S. is not seeking trade wars but has underlined President Donald Trump's willingness to review existing trade deals to make them fairer for U.S. workers. Free trade often lowers the costs of business and trade but can make it easier for companies to shift jobs to lower-cost countries.
Trump, who campaigned on an "America First" platform, has already pulled the U.S. out of the proposed Trans-Pacific Partnership agreement with Japan and other Pacific Rim countries. He also has started the process to renegotiate the North American Free Trade Agreement with Mexico and Canada.
Participants said no agreement was reached at the end of Friday's session of the ministers. Whether one would be reached before the close of the conference on Saturday was not clear, they said. European countries and China were said to be pushing for a stronger stance in favor of free trade and cooperative, multi-country frameworks for trade such as the World Trade Organization.
Chinese Finance Minister Xiao Jie said his country would "unswervingly oppose trade protectionism." Canada, like China a major trade partner of the U.S., took a nuanced approach, with Finance Minister Bill Morneau said to support a general statement on the importance of trade for growth — while not insisting on particular language.
Participants said some free-trade advocates were ready to give the U.S. some space without pushing too hard on trade language, given that the administration is new and in some areas still defining its policies. The officials briefed reporters only on condition of anonymity because the talks were ongoing.
They said there was less discussion of the previous commitment that countries would refrain from pushing their currencies' exchange rates lower. Weakening a currency gives a country's exporters an advantage, but often at the expense of trading partners.
The G-20 is an informal forum on economic cooperation made up of 19 countries plus the European Union. The finance ministers' meeting will pave the way for a summit of national leaders in Hamburg, Germany, on July 7-8. Its decisions don't have the same force as an international treaty but simply depend on individual countries' promises to follow through on them.
Story: David McHugh