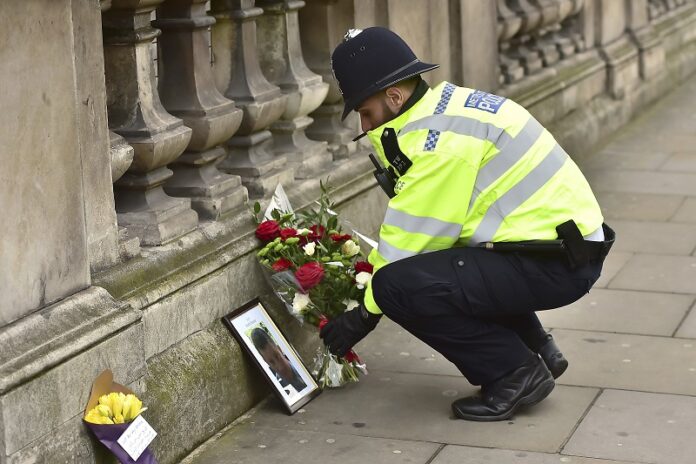 LONDON — The four victims killed and at least 30 wounded in the attack in Westminster were a cosmopolitan snapshot of one of the world's most cosmopolitan cities.
The dead included a British policeman stabbed to death, an American tourist celebrating his 25th wedding anniversary and a British school administrator adored in the Spanish town where she spent summer vacations with her family. A 75-year-old man also died Thursday of his wounds, London police said.
The injured came from 12 countries. In addition to Britons, they included schoolchildren from France, a Romanian couple, a Portuguese man who had just finished his shift at a food store, and others who had traveled from as far away as China to explore London.
Here's what's known about the victims:
Police Officer Keith Palmer, 48, had been a member of Britain's parliamentary and diplomatic protection forces for 15 years and a soldier in the Royal Artillery before that.
He was on duty protecting Parliament when he was stabbed to death on Wednesday.
Honoring Palmer, Prime Minister Theresa May said he was "a husband, a father … he was every inch a hero.
"His actions will never be forgotten."
Conservative lawmaker James Cleverly tweeted that he was "heartbroken," having known Palmer for 25 years. He said they served in the military together.
"A lovely man, a friend," Cleverly wrote.
The Charlton Athletic Football Club said Palmer was a long-time fan and "a familiar face" at its London stadium, The Valley. As a tribute, the club placed one of its red-and-white scarves on his seat in the East Stand where he sat "for many years." It said the scarf will stay there until the team's next game on April 4.
Aysha Frade, a British citizen whose mother is Spanish, was one of two people killed on the bridge.
In the northwestern Spanish town of Betanzos, where her mother was born and her two sisters run an English-language school, the mayor said: "The whole town is shocked."
Although Frade, 43, was born and lived in London, she spent weeks every summer in Betanzos visiting relatives, said Ramon Garcia Vazquez, mayor of the town of 13,000 in Spain's Galicia region.
He told The Associated Press that her family "was very well known in the village and loved by everybody here."
He said her two elder sisters, Silvia and Michelle, flew to London early Thursday. The Betanzos town hall held a minute of silence for the family at noon Thursday and the mayor announced three days of mourning.
Frade worked as an administrator at the DLD College – a school in Westminster a stone's throw from Parliament.
"She was highly regarded and loved by our students and by her colleagues. She will be deeply missed by all of us," said Rachel Borland, the college principal.
Frade had two daughters, Spain's regional Voz de Galicia newspaper reported.
Kurt W. Cochran from Utah was on the last day of a European trip celebrating his 25th wedding anniversary when he was killed on Westminster Bridge.
His wife, Melissa, was seriously injured and remains hospitalized. She suffered a broken leg, a broken rib and cuts and bruises, said friend Mike Murphy.
They were visiting her parents, who are serving as Mormon missionaries in the British capital, a church spokesman said.
The couple ran a recording studio in the basement of their home just outside Salt Lake City.
Murphy, owner of Murphy's Guitars, said Kurt Cochran regularly came to his shop to buy recording equipment for the studio where he tried to help young bands get started by charging them very little.
"He loved music," Murphy said. "He was always around when there were music things going on."
Pictures on Kurt Cochran's Facebook page show the couple enjoying their trip through Europe prior to the attack. In one post, he was smiling and holding a German beer under the caption, "After a long day of sightseeing."
In a tweet, U.S. President Donald Trump called Cochran "a great American" and said: "My prayers and condolences are with his family and friends."
A fourth victim of Wednesday's attack on Westminster Bridge died Thursday, London police said, without releasing his name or nationality. The 75-year-old man had been receiving medical treatment in the hospital following the attack and life support was withdrawn on Thursday evening, a police statement said.
Those injured in the attack included 12 Britons, four South Koreans, three French, two Romanians, two Greeks, two Irish, and one person each from Germany, Poland, China, Italy, Portugal and the United States. Police earlier said several people were in critical condition.
Francisco Lopes, a 26-year-old from Portugal who has lived in London for 15 years, suffered severe cut on his hands and legs when he was hit by the car on Westminster Bridge. He had just finished work at a food store and was walking along the bridge to catch the Tube home.
"I was scared for my life," Lopes told the AP. "I didn't want to die. I was trying to convince myself that I was going to be OK and that my legs were going to be OK."
"I had no, literally no, time to get out of the way," he said. "I tried to defend myself as I could. So I put my arms forward, and the car just tumbled me over."
Lopes, who will have surgery on one of his hands, says he is struggling to try to sleep.
"I started to close my eyes and then that image just started coming over again, you know the fear, the people screaming," he said.
Romania's ambassador to Britain, Dan Mihalache, said a critically injured Romanian woman successfully underwent surgery Thursday to remove a blood clot from her brain, but she also has lung injuries.
The woman was rescued from the Thames River – it was not clear whether she jumped in to escape the car or was thrown into the water by its impact.
Romanian authorities did not name her or the man she was traveling with, citing privacy rules. Romanian media reported that the couple in their 20s had traveled to London to celebrate his birthday later this week.
The ambassador told the national news agency Agerpres the man suffered a foot fracture.
"He's in psychological shock because of the situation," he said.
Story: John Leicester