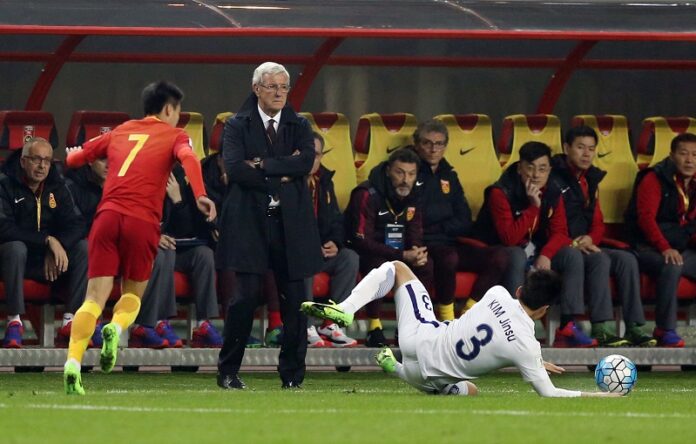 SEOUL, South Korea — If Marcello Lippi and China are to have any chance of going to the 2018 World Cup then they are going to have to pass what is currently the toughest test in Asian soccer – a game against Iran in front of 100,000 fans in Tehran.
After six games of 10 already played in Group A in the third round of qualification, Iran is not only four points clear at the top but has yet to concede a single goal in 540 minutes of soccer. The latest clean sheet came in a 1-0 win in Qatar on Thursday.
Iran is nine points clear of China in fifth and with the top two in the group progressing automatically to Russia, needs just two wins from the last four games to be certain of a second successive World Cup appearance.
"We are happy to be top of the group but there is still work to do," Iran coach Carlos Queiroz told Associated Press.
"Lippi is a good coach and already we can see that China is better-organized," added the former Real Madrid coach. "It will be a tough game for us but we are ready to keep trying to get the point to qualify once again."
Lippi, World Cup winner with Italy in 2006, arrived in Beijing in October, charged with resurrecting the fortunes of Asia's biggest underachieving team that has reached just one World Cup, back in 2002.
China arrives in Tehran after its best result in years, a 1-0 win over South Korea, only a second win against its regional rival in 32 meetings.
"I hope my team don't get too self-satisfied with this," Lippi said. "I hope they can have even better achievements. We know that Iran is going to be very difficult and we don't have much time to prepare but we will try our best as always."
While Lippi and Queiroz are basking in the glow of good results, other coaches around Asia are under pressure.
Uli Stielike has come under fire for becoming only the second coach in South Korea's history to lose to China, which after a 1-0 loss in Iran marked a second defeat in three games for Asia's most successful World Cup team.
The German apologized to fans after the defeat and received the public backing of Chong Mong-gyu, the head of the Korean Football Association.
"We didn't play such a bad match," Chung said upon arriving back in South Korea. "The players did the best they could under the circumstances. We haven't lost hopes of qualifying for the World Cup and talks of a coaching change (are premature)."
Failure to defeat Syria in Seoul would add to the pressure and put South Korea's chances of a ninth successive World Cup appearance in serious doubt. Tottenham Hotspur forward Son Heung-min returns from a suspension that kept him out of the China defeat.
Syria, in fourth, arrives in Seoul full of confidence after defeating third-placed Uzbekistan 1-0. Uzbekistan needs to bounce back at home against bottom team Qatar.
In Group B, the big game is between Australia in third and fourth-placed United Arab Emirates in Sydney.
Australia has drawn its last four games and is now three points behind the two leaders Saudi Arabia and Japan.
Socceroos boss Ange Postecoglou won the 2015 Asian Cup but has been criticized for experimenting with a new system in the 1-1 tie with Iraq on Thursday.
The hosts need to return to winning ways and with three of the four remaining games at home, the coach is confident the Australians will make it.
"We're in a tough group, no doubt, and every game has its challenges," Postecoglou, who will be without suspended star midfielder Aaron Mooy, said. "We've had four tough away trips, it'd be great to have some more points, but it was always going to come down to these last few games, especially at home."
"It's still in our hands, but it has to be part of the overall process of making sure we don't deviate or cower now just because people are anxious about qualifying."
United Arab Emirates coach Mehdi Ali is also under pressure following a 2-0 home defeat to Japan.
Saudi Arabia and Japan can both maintain their positions at the top of the group with winnable home ties against struggling Iraq and Thailand respectively.
Story: John Duerden