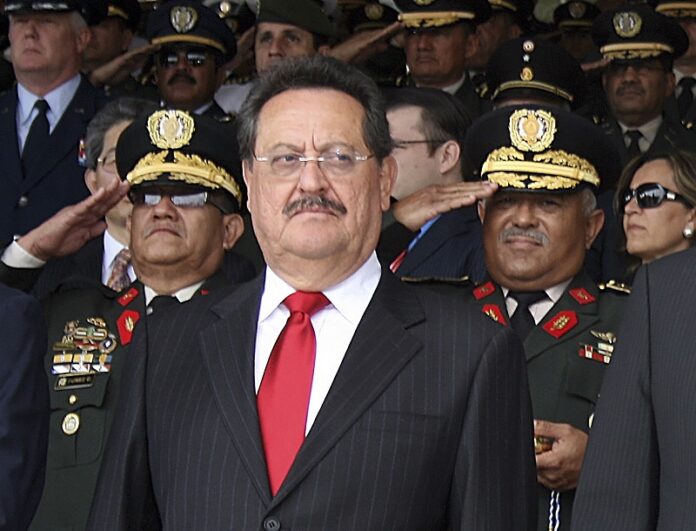 NEW YORK — A case unfolding in a lower Manhattan courtroom has caused political tremors in Honduras, seeming to confirm long-held suspicions that corruption at the highest levels of government helped turn the Central American country into a violent epicenter of the drug trade at the start of this decade.
Fabio Porfirio Lobo, the son of the Honduran president in 2010-2013, is preparing to go before a federal judge for sentencing after pleading guilty to his role in a drug-trafficking ring involving members of Honduras' national police. But it is the details of the conspiracy that emerged in testimony and newly released court documents which have captivated people back home by tying his father and a brother of the current president directly to traffickers.
Political and civil society groups have been demanding investigations into the allegations, especially against former President Porfirio "Pepe" Lobo Sosa, who remains a leader in the ruling National Party and is among the wealthiest people in the country, with extensive agricultural land holdings.
"This is something that everyone suspected," said Edmundo Orellana, a former attorney general of Honduras. "But what we didn't know was the extent of the involvement with the politicians. This has been a surprise."
Most of the new information has come from a surprising source: Devis Leonel Rivera Maradiaga, a once-feared leader of a Honduran trafficking organization known as Los Cachiros. In a clinical-like manner, he admitted taking part in dozens of killings, including the country's former drug czar, as he testified in a largely empty courtroom against the ex-president's son over two days in March.
"I caused the death of 78 people," he said at one point. "Together with politicians and drug traffickers."
Rivera Maradiaga had a decade-long career as a trafficker based on the Atlantic coast. He described paying at least USD $500,000 in bribes directly to the elder Lobo, beginning when he was running for the presidency in 2009 following a coup that ousted the former president and threw Honduras into political chaos. Rivera Maradiaga was seeking protection for his business and against extradition to the U.S.
Rivera Maradiaga sketched out what became a close working relationship with the younger Lobo during his father's term in office. It allowed him to ship huge quantities of cocaine to the U.S. in coordination with the cartel led by Mexican drug lord Joaquin "El Chapo" Guzman. As U.S. authorities closed in on him, the leader of Los Cachiros surrendered to the Drug Enforcement Administration with his brother in 2013 and became a cooperating witness.
As part of their relationship, the president's son connected the head of Los Cachiros to corrupt politicians and police to bring in loads of cocaine from Colombia and Venezuela, according to U.S. prosecutors. They said the son helped the trafficker set up front companies, including a zoo north of the capital, and obtain government contracts that enabled him to launder enormous profits.
Rivera Maradiaga also testified that Antonio Hernandez, a brother of Honduras' current president, Juan Orlando Hernandez, asked him for a bribe in exchange for government contracts. The brother has denied that allegation.
"Without support from (the president's son) and Honduran officials, criminality of this magnitude could not have continued, largely unfettered, for as long as it did," prosecutors wrote in a pre-sentencing brief.
At the time, Honduras had deteriorated into violent upheaval. In 2011, the U.N. ranked it as the country with the world's highest homicide rate. The U.S. State Department described Honduras as the "primary transshipment point" for U.S.-bound cocaine and lamented that the country received a 2.4 out of 10 on Transparency International's Corruption Perceptions Index.
The situation has improved since Lobo left office. The State Department says in its most recent report that the volume of cocaine that passes through Honduras is down 40 percent since 2014, the homicide rate has dropped a third, and a new national police investigative division "replaced its historically inept and corrupt predecessor." In December 2014, with the new president in office, the country extradited the first Honduran citizen to the U.S. on a drug-trafficking charge, Carlos Lobo, who is not related to the former president. He was convicted and sentenced to 20 years in prison.
U.S. Vice President Mike Pence met with Honduras' president on March 23 and praised the country's progress fighting drugs and corruption.
As a result of the revelations of alleged corruption by Rivera Maradiaga, the Honduran government said it is conducting a wide-ranging investigation that includes at least four anti-corruption prosecution teams to look into allegedly fraudulent government contracts set up to help Los Cachiros launder money.
The DEA and federal prosecutors have declined to discuss the case as have lawyers for Rivera Maradiaga and Lobo's son, who faces up to life in prison when he is sentenced later this year.
Rivera Maradiaga has pleaded guilty to charges that include drug trafficking and involvement in the slayings of the 78 people, including a woman killed in November 2013 in Quebec after fleeing the gang in her homeland. He also faces up to life in prison at a sentencing scheduled for April.
The former drug gang boss apparently did gain a concession. He said in court that U.S. authorities have allowed his parents and two siblings to come to the United States as he continues to provide assistance.
"I'm in prison," he said. "And ever since I signed my agreement with the government I have to tell the truth, testify whenever they ask me to, and not commit any more crimes."
Story: Claudia Torrens, Ben Fox