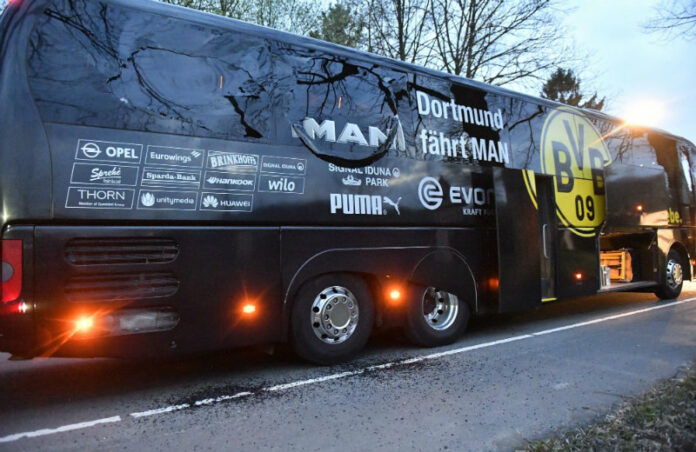 DORTMUND, Germany — The Latest on attack on Borussia Dortmund team bus (all times local):
10:40 a.m.
Several German news media organizations are reporting that the note found after the bomb attack on the Borussia Dortmund soccer team uses radical Islamic rhetoric — but that police are not sure whether the note is genuine or an attempt to throw them off the track.
Die Welt newspaper and Sueddeutsche Zeitung reported online that the note made reference to Germany's participation in the military coalition opposed to Islamic State. German Tornado reconnaissance planes are taking part in a non-combat role. The papers said that experts on Islam were reviewing the note to try to establish its authenticity.
Meanwhile the dpa news agency reported that investigators were probing statements found on the web that indicated a left-wing motive to punish the club for allegedly not opposing racism strongly enough.
Federal prosecutors have scheduled a statement for 1200 GMT.
___
10:00 a.m.
German federal prosecutors say they have taken up investigations following the attack on a bus carrying the team of Borussia Dortmund.
Spokeswoman Frauke Koehler said in a statement Wednesday that prosecutors would make a further statement about the probe at 2 p.m. (1200 GMT) in Karlsruhe.
Federal prosecutors usually take on cases that are considered to be of a serious nature, including those in which a terrorist motivation is suspected.
Investigators are examining a note found at the scene of the bombing Tuesday night but have not revealed its contents.
8:55 a.m.
German police said Wednesday they are investigating "in all directions" after three explosions went off near Borussia Dortmund's team bus ahead of a Champions League quarterfinal match, injuring one of the soccer team's players.
The first-leg match against Monaco was called off shortly before kickoff Tuesday evening following the blasts near the team hotel in suburban Dortmund, which authorities assume were a targeted attack. Players and police were preparing to go ahead with the rescheduled match on Wednesday evening, with heavy security in place.
Investigators were checking the authenticity of a letter claiming responsibility that they found near the scene, and were refusing to give any details of its contents, citing the ongoing probe. Another suspicious object found at the scene turned out to be trash.