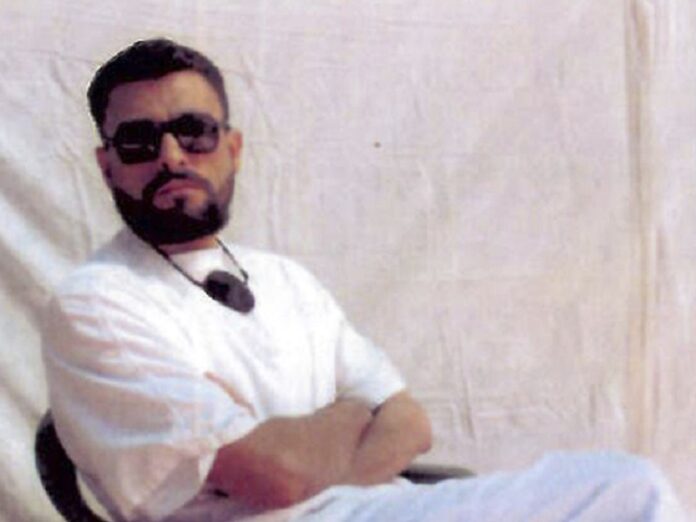 MIAMI — The first CIA captive subjected to what the U.S. government called "enhanced interrogation techniques" in Thailand after the Sept. 11 attacks will testify about conditions inside the Guantanamo Bay detention center, even if it could create legal problems for him.
The lawyer for the Palestinian known as Zayne Abu Zubaydah said in a letter released Thursday that his client wants to testify at the U.S. base in Cuba next week despite the legal risk because he believes he is innocent, wants a chance to address the public and doesn't think he will ever be charged anyway.
Though the hearing pertains to conditions at Guantanamo, the lawyer's letter makes it clear Zubaydah plans to detail his experiences at CIA "black sites" operated after the Sept. 11 attacks. It could provide the first public airing of what went on at one reportedly operated in Thailand, where Zubaydah allegedly suffered severe torture and even lost an eye.
"Abu Zubaydah will take the stand, unafraid of the truth that will emerge, confident that the world will come to know that he has committed no crimes," lawyer Mark Denbeaux wrote in the letter, a copy of which was provided to The Associated Press.
Although Thai officials have by rote denied such a facility existed, most accounts place it at or near Bangkok's Don Mueang Airport.
The letter was sent earlier this month by Denbeaux to James Harrington, a civilian lawyer appointed to represent Ramzi Binalshibh, one of five Guantanamo prisoners facing trial by military commission for their alleged roles planning and providing logistical support for the terror attack on Sept. 11, 2001.
Binalshibh has accused guards inside Camp 7, the highest security section of Guantanamo, of causing noises and vibrations intended to disrupt his sleep and making it difficult for him to participate in his legal case, which remains bogged down in pretrial proceedings. His lawyers have called Zubaydah as a witness to support the claims, which were supported by testimony from a third prisoner, from Somalia, at a June 2016 hearing but have been rejected by the military.
Lawyers for Binalshibh asked the military judge presiding over the case to prohibit prosecutors from asking about anything unrelated to conditions in Camp 7 or to grant Zubaydah immunity. That request was denied in January. He is now scheduled to testify at the base on May 19, though it could get postponed.
Prosecutors said in court papers that Zubaydah is a "potential target" for prosecution and is "rightfully concerned that his words might incriminate him of acting to do harm to the United States."
The prosecution says Zubaydah had closely held information of the inner workings of the Sept. 11 plot. That included clues that helped authorities identify the self-professed mastermind, Khalid Shaikh Mohamad, who faces trial at Guantanamo with Binalshibh.
Zubaydah, 46, was captured in Pakistan in March 2002 and taken to a clandestine CIA detention facility. At the time, authorities suspected he was one of the highest ranking members of al-Qaida, though they have more recently described him in official documents only as a "facilitator" for the terrorist organization.
Convinced he had more information than he was providing, the CIA subjected him to the "enhanced" measures approved by the administration of President George W. Bush. That included being subjected to the torment of waterboarding 83 times in August 2003. Intelligence officers later sent a cable to Washington seeking assurances that he would "remain in isolation and incommunicado for the remainder of his life," according to a 2014 report on the program by a Senate committee.
He has been held at Guantanamo since September 2006 and has not been seen except for an appearance last year before a board considering whether he should be eligible for release. He did not speak during a brief public portion of that hearing and his release was rejected. He is one of 41 prisoners at the base.
His lawyer says that Zubaydah is prepared to discuss conditions inside Camp 7 and how the treatment alleged by Binalshibh reflects elements of the interrogation program, which included prolonged sleep deprivation. "My client can draw upon his personal experience to address this issue," he said.
Denbeaux, also a professor at Seton Hall University School of Law in New Jersey, says the government won't charge Zubaydah because it doesn't want to be forced to disclose more details about the treatment he and other prisoners endured.
"The failure to charge him after 15 years of torture and detention speaks eloquently," Denbeaux said. "To charge him would be to reveal the truth about the creation of America's torture program."
Still, Zubaydah is taking a risk, said Jason Wright, a former military lawyer who was appointed to represent Mohammad and others and now practices law in New York. Prosecutors can cross-examine him about any alleged involvement with al-Qaida to show potential credibility or bias and could use anything he says against him in the future.
"He certainly faces legal jeopardy by taking the stand," Wright said.
Story: Ben Fox, Khaosod English