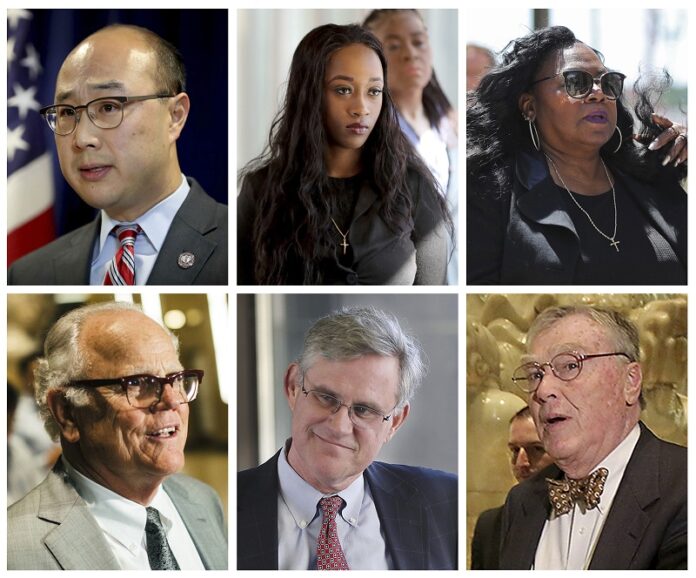 MINNEAPOLIS — A Minnesota police officer was acquitted Friday in the killing of a black motorist that drew widespread attention when video of the shooting's aftermath was streamed live on Facebook.
Key figures in the manslaughter trial of St. Anthony police officer Jeronimo Yanez in last July's death of Philando Castile:
The Driver
Castile, 32, was a longtime elementary school cafeteria worker who family members described as loving and laid-back. Quick with a high-five for students and always eager to sneak kids extra graham crackers and other treats, Castile was known simply as "Mr. Phil." One teacher testified at trial that Castile remembered which kids had allergies, and nudged students to finish their veggies.
Police had pulled Castile over many times before. Although he had no serious criminal record, The Associated Press examined records that show he was pulled over around 50 times in recent years in the Minneapolis-St. Paul area, typically for minor offenses such as driving on a suspended license or without proof of insurance, speeding, driving without a muffler or not wearing a seat belt.
His girlfriend, Diamond Reynolds, testified that on the day of the shooting, he had gone to work, went to get his hair dreaded for his upcoming birthday, then picked her up to go grocery shopping. They were on their way home when he was shot.
She testified he had a gun, and a permit to carry it, for protection.
The Officer
Yanez, who is Latino, had worked for the St. Anthony Police Department for nearly five years. He testified that he stopped Castile because he thought Castile looked like a suspect in a recent armed robbery. A faulty brake light gave the 29-year-old officer justification to pull Castile over.
After the shooting, Yanez's body microphone captured audio of him saying first that he didn't know where the gun was, but then that he told Castile to take his hand off the gun. Yanez testified that he clearly saw a gun and that Castile ignored his commands to stop pulling it out of his pocket.
"I was scared to death. I thought I was going to die. My family's faces popped up in my mind, my wife and baby girl," Yanez said, his voice choked with emotion.
The Girlfriend
Millions of people saw Reynolds in her live Facebook stream as Castile lay bleeding next to her in the driver's seat. She was praised for her split-second decision to stream the shooting's aftermath and her measured responses to Yanez, who had just fired shots into the car and still had his gun out.
Reynolds testified that she started recording because she feared for her own life.
"Because I know that the people are not protected against the police," Reynolds said. "I wanted to make sure if I died in front of my daughter that people would know the truth."
The defense attacked Reynolds' testimony and pointed out several inconsistencies in statements she made to authorities and in public. She also acknowledged that she and Castile smoked marijuana regularly, and that marijuana was in the car at the time of the shooting.
Reynolds' daughter — 4 years old at the time — was also in the car.
The Partner
Officer Joseph Kauser was called as backup when Yanez initiated the traffic stop.
Squad video shows Kauser was standing on the passenger side of the car and jumping back when the shots were fired. He testified that he didn't see Castile's gun, but noted that he was paying more attention to the car's passengers. He said the situation didn't seem alarming, and the shooting surprised him.
Kauser also testified that he trusted Yanez as a partner. He said he believed the officer followed proper protocol and that Castile was moving after Yanez told him not to reach for the gun.
The Mother
Castile's mother, Valerie Castile, emerged as a calm voice for change after her son's death. She urged protesters to remain peaceful while also calling on lawmakers to consider improvements in police training, hiring and other issues she felt contributed to her son's death.
"He is the driving force in me to make sure this doesn't happen to another mother," she has said.
She remained stoic during the trial, sitting silently in the front row — across the aisle from Yanez's family — as the squad car video of her son's shooting was played repeatedly. She declined to comment to reporters during the course of the trial.
She has hired attorneys and plans a lawsuit.
The Prosecutors
Ramsey County Attorney John Choi made the decision to charge Yanez, and a team of seasoned attorneys from his office prosecuted the case.
State prosecutors Rick Dusterhoft and Clayton Robinson, and federal prosecutor Jeff Paulsen, played squad car video of the shooting repeatedly as they presented their case. Paulsen questioned Kauser at length about police procedure, what he saw during the stop, and how the shooting took him by surprise. When Kauser said, "I don't know what (Castile) was reaching for," Paulsen replied, "Exactly. He could've been reaching for his wallet."
The Defense
Yanez hired three prominent Minnesota attorneys — Paul Engh, Earl Gray and Thomas Kelly — who have all handled big cases before.
During the trial, the three took turns cross-examining the state's witnesses and presenting arguments to the jury. Gray pointedly went after Reynolds on cross-examination, flustering her as he exposed many issues in statements she made.
The Judges
Judge William H. Leary III is head of Ramsey County District Court's civil division. Leary, who is white, was assigned to the case after Yanez's attorneys asked to have another judge, who is black, removed.
Minnesota law allows defense attorneys to remove one judge without citing a reason, and Yanez's attorneys declined to say whether race was a factor.
Leary ran a no-nonsense courtroom during the trial. He issued an order in advance saying he would allow no outward facial expressions or outbursts from the gallery.
The Jury
The 12 jurors that deliberated Yanez's case included two black people. The rest of the jurors are white.
Story: Amy Forliti