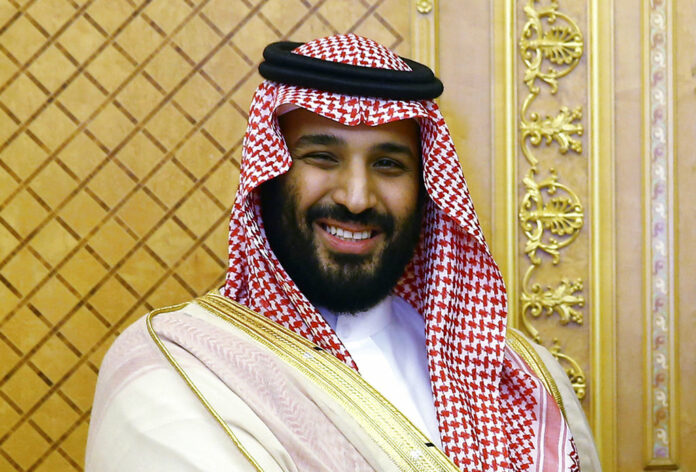 RIYADH, Saudi Arabia — Saudi billionaire Prince Alwaleed bin Talal has been detained in a large anti-corruption sweep targeting dozens of senior princes and government ministers.
A high-level employee of the King Holding Company, which Prince Alwaleed chairs, told The Associated Press that the royal had been among those detained overnight Saturday. The employee spoke on condition of anonymity due to fear of repercussions.
Prince Alwaleed is one of the Middle East's richest people, with investments in Twitter, Apple, Rupert Murdoch's News Corporation, Citigroup, the Four Seasons hotel chains and most recently in ride sharing service Lyft.
He's also known for being among the most outspoken Saudi royals, long advocating for greater women's rights. He is also majority owner of the popular Rotana Group of Arabic channels.
The government has so far only announced that an anti-corruption probe was launched, with state-linked media reporting that dozens of princes and ministers were detained without releasing their names.
Saudi Arabia has reportedly arrested 11 princes and dozens of former government ministers as it announces a new anti-corruption campaign, further cementing King Salman and his crown prince son's control of the kingdom.
The arrests late Saturday, as well as the king's removal of a prominent prince in charge of the National Guard, came as Lebanon's prime minister, a close Saudi ally, announced his own resignation from the Saudi capital only hours earlier.
The moves further shake up Saudi Arabia and the greater Middle East as regional conflicts still rage around the kingdom. Shiite rebels in Yemen, the target of a 2 ½ year Saudi-led military campaign, fired a ballistic missile toward Riyadh's international airport on Saturday night.
The Saudi-owned Al-Arabiya satellite news channel reported the arrests late Saturday of 11 princes and dozens of former ministers.
Al-Arabiya reported that the anti-graft committee is looking into deadly floods that overwhelmed parts of the city of Jiddah in 2009 and the government's response to the Middle East Respiratory Syndrome (MERS) virus that has killed several hundred people in the past few years.
The anti-corruption effort is being headed by the kingdom's powerful Crown Prince Mohammed bin Salman, who was named to oversee the new committee.
Al-Arabiya did not name those detained, though rumors circulated into early Sunday that they included some of the most powerful businessmen in the country. A Saudi government spokesman did not immediately respond to a request for comment.
Reports also suggested those detained were being held in the Ritz Carlton in Riyadh, which only days earlier hosted a major investment conference. The phone number for the hotel had been disconnected by Sunday morning and a Dubai-based spokeswoman for the hotel chain did not respond to a request for comment.
Meanwhile, the kingdom's top council of clerics issued a statement saying it is an Islamic duty to fight corruption— essentially giving religious backing to the high-level arrests being reported.
The government said the anti-corruption committee has the right to issue arrest warrants, impose travel restrictions and freeze bank accounts. It can also trace funds, prevent the transfer of funds or the liquidation of assets, and take other precautionary measures until cases are referred to the judiciary.
The royal order said the committee was established "due to the propensity of some people for abuse, putting their personal interest above public interest, and stealing public funds."
Saudi nationals have long complained of rampant corruption in government and of public funds being squandered or misused by people in power.
The 32-year-old crown prince has been seeking to attract greater international investments and improve the country's reputation as a place to do business. It's part of a larger effort to diversify the economy away from dependence on oil revenue.
"The scale of the arrests goes beyond the allegations of corruption, and are designed to further smooth the eventual succession," said Kristian Coates Ulrichsen, a research fellow at the James A. Baker III Institute for Public Policy at Rice University.
"As a leader who is set to remain in power for decades, Mohammed bin Salman is remaking the kingdom in his own image and signaling a potentially significant move away from the consensual balancing of competing interests that characterized Saudi rule in the past."
The king also ousted one of the country's highest-level royals from power, removing Prince Miteb bin Abdullah as head of the National Guard. He was replaced by Prince Khalid bin Ayyaf al-Muqrin, who had held a senior post with the guard.
Prince Miteb's father was the late King Abdullah, who also had led the National Guard and had transformed it into a powerful and prestigious force tasked with protecting the ruling Al Saud family, as well as important holy sites in Mecca and Medina, and oil and gas sites.
Prince Miteb was once considered a contender for the throne. His ouster as head of the National Guard essentially sidelines one of the most formidable rivals to the current crown prince, who has amassed enormous power in less than three years since his father, King Salman, ascended to the throne.
Three months ago, Prince Mohammed bin Nayef was ousted from the line of succession and from his post as interior minister, overseeing internal security.
With the two princes now sidelined, control of the kingdom's security apparatus is now largely centralized under the crown prince, who is also defense minister.
Only hours earlier, Lebanese prime minister Saad Hariri resigned from his post in a televised address from Riyadh, offering a vicious tirade against Iran and its Lebanese proxy Hezbollah group for what he said was their meddling in Arab affairs.
"Iran's arms in the region will be cut off," Hariri said.
Saudi Arabia then said its forces intercepted a ballistic missile fired Saturday night by Shiite rebels in from Yemen toward one of the kingdom's major international airports on the outskirts of the capital, Riyadh. A Saudi-led coalition launched a war against the Houthi rebels and their allies in March 2015 that grinds on today, a campaign overseeing by Crown Prince Mohammed.
The missile fire drew an immediate rebuke from President Donald Trump, who blamed Iran in part for the attack.
"A shot was just taken by Iran, in my opinion, at Saudi Arabia. And our system knocked it down," Trump said, referring to the Patriot missile batteries Saudi Arabia has purchased from the U.S. "That's how good we are. Nobody makes what we make and now we're selling it all over the world."
It's unclear if the U.S. had any advance word of the coming arrests. Trump's son-in-law and White House adviser Jared Kushner and others made an unannounced trip recently to Riyadh. Trump earlier Saturday said he spoke to King Salman about listing the kingdom's massive state-run oil company, Saudi Aramco, in the United States.
Story: Abdullah Al-Shihri, Aya Batrawy