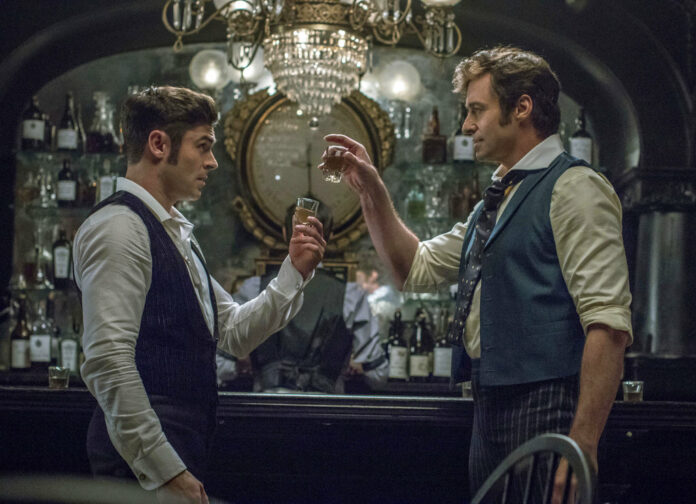 "Don't fight it," goes the opening song of "The Greatest Showman," sung by Hugh Jackman. "It's coming for you, running at ya."
Well, that's for damn sure. "The Greatest Showman" is a one hour-and-45 minute onslaught on the senses — all peppy, fizzy ballads and frantic energy, earnest sentiments and impossibly good intentions. It's begging for love, like a puppy serenading us with pop songs.
It's exhausting, and messy. And that's too bad, because Jackman really IS one of the great showmen of our time. Give the man a stage and a song, and it's near impossible not to love him. The movie? Not so much.
Jackman plays P.T. Barnum, the 19th-century businessman and politician — but a showman above all — who founded the Barnum & Bailey circus. He did a lot more than that; the movie's publicity notes call him "America's original pop-culture impresario."
OK, but they weren't singing 21st-century pop ballads back then, and one of the movie's biggest problems is its almost desperate determination to contemporize everything for a young audience. It's not so much the casting of Zac Efron and Zendaya as young lovers; it's that they and the others are given upbeat pop songs and self-empowering anthems that would perhaps sound great (if generic) on their own, but simply feel jarring when sung by 19th-century characters in period dress. It's all the more frustrating given that the songs come from talented duo Benj Pasek and Justin Paul, who wrote the lyrics for "La La Land" and the terrific score for Broadway's "Dear Evan Hansen."
The film is a debut feature from director Michael Gracey, known for his work on commercials and music videos, and that's telling, because it often feels like a collection of slickly produced music videos, loosely tied together with a plot we're not supposed to care too much about.
It does start off with a bang — that opening number set at the circus, with Jackman in a top hat and long red coat, wielding a cane and recalling the stylish emcee in "Pippin." Then we go into flashback, meeting the young Barnum as a poor boy, a tailor's son. He meets the angelic girl of his dreams in a fancy mansion, and resolves to marry her. "A million dreams is all it's gonna take," he sings.
The song continues as the youngsters segue into adulthood: "A million dreams for the world we're gonna make." Their early years together are short on cash, long on, um, dreams. Wife Charity — Michelle Williams, given little to do but always genuine and touching — insists she doesn't regret leaving her wealthy past.
Barnum loses his first job, and comes up with the idea of a museum of oddities. The first version is a bust. Then one of his little daughters tells him: "You need something alive."
Light bulb! Barnum realizes his oddities need to be human: General Tom Thumb, the Bearded Lady, the Siamese twins. "They're laughing anyway," he tells one of them, "so why not get paid?" The place is a hit, and suddenly Barnum's very wealthy.
But he needs something more: Acceptance, among the snobby elites. He convinces a young, patrician playwright, Philip (Efron) to join him in the business. They seal the deal in an energetic number set in a barroom, "The Other Side," which reminds us of those "High School Musical" days and how we've rather missed Efron singing and dancing. Soon Philip will be falling in love with a beautiful, soft-spoken acrobat (Zendaya), and their mixed-race romance — scandalous back in the day — will produce the sweet yet also generic "Rewrite the Stars," performed with the help of aerial acrobatics.
Then there's a subplot with the Swedish soprano Jenny Lind — inspired by fact but veering into the fictional. Barnum goes to Europe to persuade Lind (Rebecca Ferguson) to tour America; the high-stakes enterprise, he reasons, will finally get him embraced by high society.
If there's an eleven-o'clock number, it's got to be "This Is Me," ably sung by Broadway belter Keala Settle, a motivational anthem that seems meant to stop the show but sounds too familiar to really stir the spirits. "I'm gonna send a flood, gonna drown them out," the bearded lady sings, and alas, it's an apt description of what this movie seems to be doing: Drowning us in pizazz and feel-good emotion, but not making us think, or learn. In the end, not much is happening under that circus tent.
"The Greatest Showman," a 20th Century Fox release, is rated PG by the Motion Picture Association of America "for thematic elements including a brawl." Running time: 105 minutes. Two stars out of four.
Story: Jocelyn Noveck