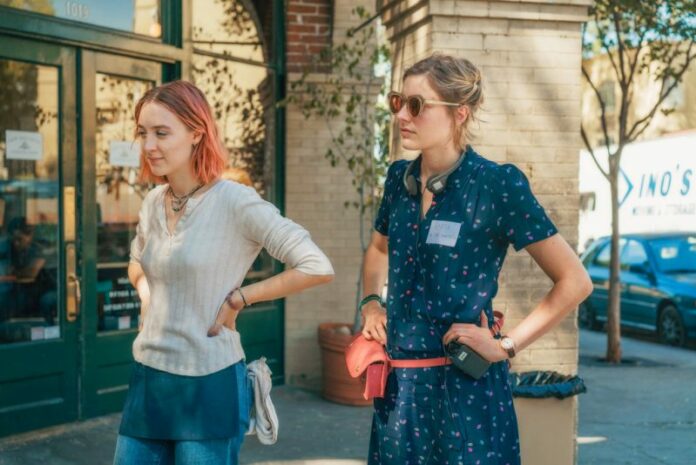 Lady Bird is obsessed with place. Her place in the world, in her Catholic high school, in her school play, in her own family and in her unglamorous hometown of Sacramento ("the Midwest of California") and the even more unglamorous part she lives in. She craves sophistication in a way that she can't quite put into words or actions, beyond a vague desire to go to an East Coast college, but is certain that whatever she has in her middle-class existence in 2002 isn't it.
Part Angela Chase, Lindsay Weir, Jo March and Anne Shirley, she is selfish and self-centered in that very particular way that teenage girls, who can't yet comprehend that this is a phase that might pass, can be. And she is, quite simply, one of the more achingly realistic teenage characters that we've had the pleasure of meeting in a movie.
Played by the Irish-American actress Saoirse Ronan ("Brooklyn," ″Atonement"), Lady Bird and the film bearing her name is the semi-autobiographical creation of actress and writer Greta Gerwig in her solo directing debut. "Lady Bird" chronicles one year in the life of its titular character, whose real name is Christine McPherson, from the start of her senior year of high school to freshman year of college and all of its beautiful banalities — sex, prom, money, grades, boys, nuns and that gnawing dissatisfaction that has plagued every modern 17-year-old who'd rather die than admit that things might be OK.
The film begins with a quote from Joan Didion: "Anybody who talks about California hedonism has never spent a Christmas in Sacramento."
It's the kind of quote Lady Bird would love to think she's the only one who understands, but the truth is, she has likely not yet discovered that patron saint of California girls. She hasn't discovered a lot of things — clove cigarettes, Jim Morrison, what "the deuce" is, how to drink liquor, or that her school has an annual musical — and doesn't yet know how to look out for both herself and others too, whether it's her nurse mother, Marion (Laurie Metcalf), or her best friend, Julie (Beanie Feldstein).
All she can see is what she doesn't have, so she carelessly skips over the tiny triumphs of her friend, and is blind to the fact that her mom might actually have her best interests in mind, or that her father Larry (Tracy Letts) might be struggling, financially and mentally.
It's these tiny and painfully honest details that make up Gerwig's rich and lovingly composed film, which is bursting with wit, humanity, joy and truth.
Ronan adds another superb performance to her already stunning resume as this somewhat unlikable yet empathetic character in flux, who will make you cry, laugh and cringe. But it's the wonderfully drawn supporting characters who truly bring this world to life and make this film such an undeniable pleasure to live in for a too-brief 93 minutes.
Metcalf is operating at the top of her game as Marion, and there are too many delightful side characters to do justice here: Lucas Hedges and Timothee Chalamet as two very different kinds of high school boyfriends; Lois Smith as a wise and funny nun; Jake McDorman as an impossibly charming teacher; and Stephen McKinley Henderson as a melodramatic drama coach are among the standouts. But it is Feldstein's performance as Julie is its own kind of sleeper triumph, and one that makes you sit up and take notice of an excellent actress who had up until this point basically only been used as a punchline (see: "Neighbors 2: Sorority Rising").
"Lady Bird" feels like a companion piece to both "Mistress America" and "Frances Ha," both of which Gerwig co-wrote with Noah Baumbach and which he directed. Left to her own devices, Gerwig has arrived and solidified her place as one of the most invigorating, observant and authentic voices in movies today with a director's acumen to match.
There are a lot of things rotting right now in the world and in Hollywood, and, basically, we should be especially grateful when something as lovely as "Lady Bird" comes along.
"Lady Bird," an A24 release, is rated R by the Motion Picture Association of America for "language, sexual content, brief graphic nudity and teen partying." Running time: 93 minutes. Four stars out of four.