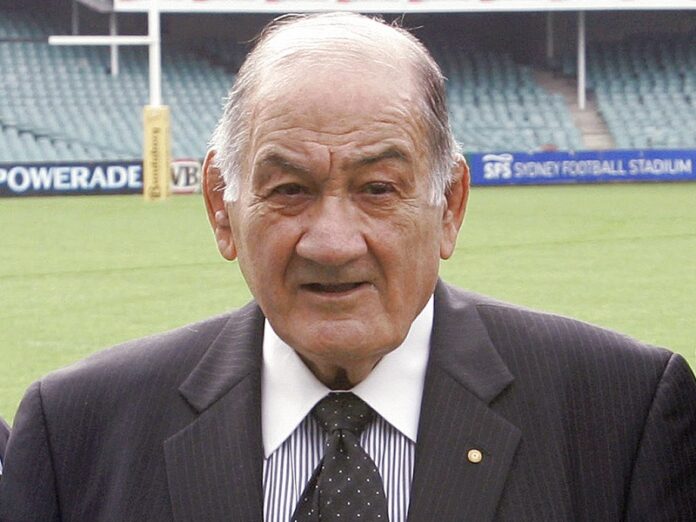 SYDNEY — Sir Nicholas Shehadie, a distinguished former Wallabies captain who was also a leading sports administrator and one of the architects of the first Rugby World Cup, has died aged 92.
Shehadie, a tall and powerful prop regarded as one of the best to have played the game, was the first man to play 100 games for the Wallabies during an international career stretching from 1946 to 1958. He captained Australia in four of his 30 tests and played 114 matches in the Wallabies jersey.
He later served as chairman of the New South Wales Rugby Union and was president of the Australian Rugby Union between 1980 and 1987. It was in the latter capacity he played a major role in planning the first World Cup which took place in New Zealand and Australia in 1987.
Shehadie, a former Lord Mayor of Sydney, used his diplomatic and lobbying skills at the International Rugby Board to overcome opposition to the World Cup concept from some northern hemisphere nations.
The Cup has gone on to become rugby's showcase event and one of the top-10 sports events in the world in terms of revenue and audience.
Shehadie was inducted into the IRB Hall of Fame in 2011.
He was a trustee of the Sydney Cricket Ground trust between 1978 and 2001 and was its chairman from 1990. His time on the trust saw the construction of the Sydney Football Stadium which has a grandstand named in his honor.
In a distinguished public career Shehadie was Lord Mayor of Sydney between 1973 and 1975.
The Australian Olympic Committee on Monday paid tribute to Shehadie's wide-ranging contribution to Australian and world sport.
"He was a visionary whose long association with the Olympic movement dated back to his time as Sydney Lord Mayor when he proposed a bid for Sydney to host the Olympic Games of 1988," AOC President John Coates said.
"While that far-sighted ambition was not realized at that time, he can rightly claim credit for transforming rugby as part of a determined group who succeeded in establishing the first Rugby World Cup, held in Australia and New Zealand in 1987."