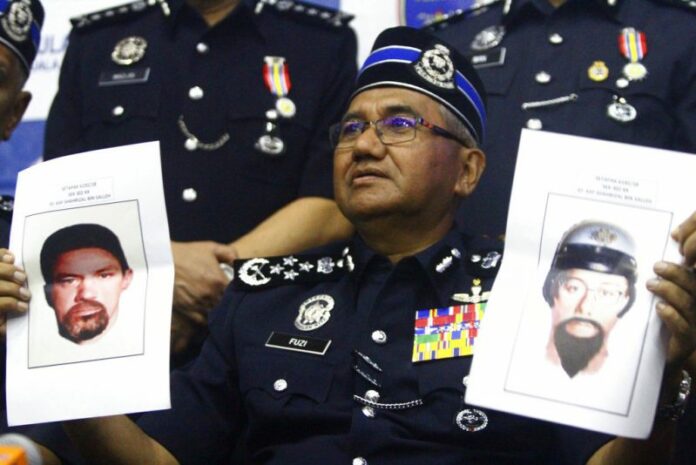 KUALA LUMPUR — Malaysian police on Monday released composite images of two suspects who gunned down a Palestinian engineer and said they appeared to be European or Middle Eastern, fueling suspicion that the slaying was an Israeli assassination.
Gaza's ruling Hamas militant group has accused Israel of being behind Saturday's killing of Fadi al-Batsh, an important member of Hamas. Israel has neither confirmed nor denied its involvement.
Malaysian national police chief Mohamad Fuzi Harun said the composite images were based on eyewitness descriptions. He said the suspects, clad in black jackets, were fair-skinned, well-built and had beards, and were likely European or Middle Eastern.
Fuzi said the images were displayed at all exit points in the country but said it was unclear if the men had fled Malaysia.
Police said the 34-year-old al-Batsh was hit with 14 bullets by the two assailants who shot from a motorbike as he was heading to a mosque for dawn prayers in a suburb near Kuala Lumpur. Police said closed-circuit television footage showed the suspects had waited for him for almost 20 minutes.
Hamas initially stopped short of blaming Israel, saying only that he had been "assassinated by the hand of treachery." But later its top leader accused Israel's Mossad intelligence agency of killing him and threatened retaliation.
A string of Israeli officials would neither confirm nor deny whether Israel had a hand in his death. Several noted, however, that Israel is always immediately blamed for such assassinations even in cases when they are not involved.
Several minsters welcomed his killing, regardless of who was responsible for it. Israeli Defense Minister Avigdor Lieberman estimated in radio interviews Sunday that al-Batsh may have been killed as part of a rivalry between Palestinian militants.
Israel has a long history of suspected targeting of wanted Palestinian militants in daring overseas operations around the globe and has been linked to other assassinations as well, though it has rarely publicly acknowledged them.
The prevailing sentiment is that Mossad was indeed behind the latest slaying, as al-Batsh was believed to have been working on the Hamas unmanned aerial vehicle program and was working on improving the accuracy of its rockets.
Police have said al-Batsh had lived in Malaysia for more than seven years and was a permanent resident of the country. He had a degree in electrical engineering and lectured at a local university, but police couldn't confirm reports that al-Batsh was an expert in rocket making.
Al-Batsh traveled locally and abroad to speak on Palestinian issues and was due to fly to Turkey for a conference when he was killed, police said.