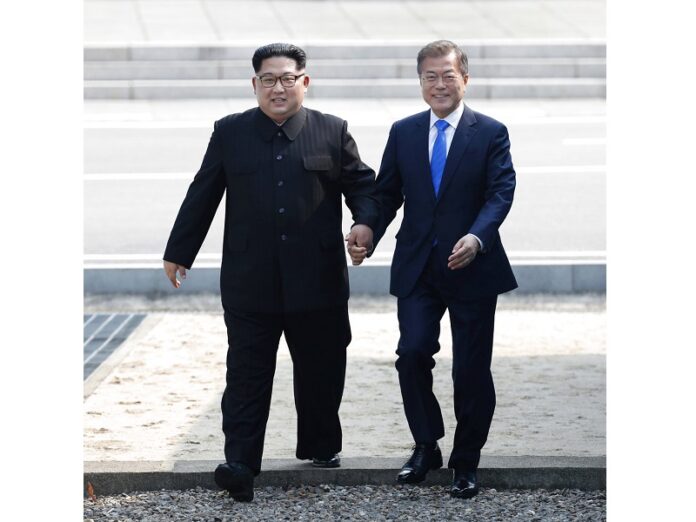 SEOUL, South Korea — The rival Koreas were holding rare high-level military talks Thursday to discuss reducing tensions across their heavily fortified border.
It's possible North Korean officials during the talks at the border village of Panmunjom will seek a firm commitment from the South on stopping its military drills with the United States.
President Donald Trump said after his summit with North Korean leader Kim Jong Un on Tuesday that the allies should stop the war games during nuclear negotiations in "good faith." South Korea's presidential office has said it's trying to discern Trump's meaning and intent, but also that the allies should explore various ways to "further facilitate" dialogue with the North.
Seoul's Defense Ministry said the military talks will focus on carrying out agreements from a summit between Kim and South Korean President Moon Jae-in where they vowed to take materialized steps to reduce military tensions and eliminate the danger of war.
The discussions are the first general-level talks between the militaries since December 2007.
"We will invest our best efforts to bring in a new era of peace on the Korean Peninsula," South Korean Maj. Gen. Kim Do-gyun told reporters before the talks.
At a building on the northern side of Panmunjom, the South Korean officials were greeted by a North Korean delegation led by Lt. Gen. An Ik San, who joked that he was "very jealous" of the major general who probably was the first Korean soldier to cross the military demarcation line that bisects the Koreas by foot and while wearing a uniform. It wasn't immediately clear whether An was right.
"I am sure that delegation chief Kim has firmly registered himself to the Guinness Book (of World Records) on the history of our nation's unification," the lieutenant general said. Kim replied he was honored to meet An and expressed hope for a meaningful breakthrough in the talks.
The Korean military officials may discuss holding military talks on a regular basis and establishing a hotline between their top military officials. They may also discuss efforts to recover the remains of soldiers missing and presumed dead from the 1950-53 Korean War.
Moon met Kim in April and again in May as Pyongyang made a diplomatic push following a provocative run of nuclear and missile tests in 2017. The Koreas have agreed to various sets of peace talks, including planned discussions to set up reunions between war-separated families and to field combined teams at the Asian Games in Jakarta, Indonesia, in August.
The Korean Peninsula remains technically at war, because the 1950-53 conflict ended in an armistice, not a peace treaty.
Annual military drills between Washington and Seoul have long been a major source of contention between the Koreas. North Korea, which sees the exercises as invasion rehearsals, last month broke off a high-level meeting with Seoul over South Korea's participation in a two-week military exercise with the United States.
A second summit between Kim and Moon, in late May, put the senior-level talks between the Koreas back on track. Still, North Korea's state media continued its criticism of allied military exercises, demanding Washington days later "stop the acts of threatening its dialogue partner by force."
Since the 1970s, the United States and South Korea have held a major summertime exercise called Ulchi Freedom Guardian that involves tens of thousands of troops. South Korea's Defense Ministry says there have been no discussions yet on modifying the drills, which usually take place in August.
Story: Kim Tong-hyung