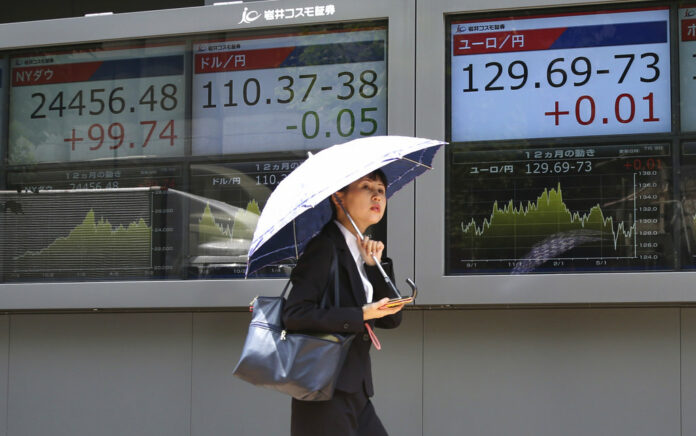 TOKYO — Asian shares are mostly higher after a weekend of relative quiet over the escalating trade stand-off between the U.S. and China. Investors appear optimistic about the outlook for the global economy despite punitive tariffs imposed by Washington and Beijing on each other's exports.
Keeping Score
Thailand's SET traded at 1,623.95, up 0.6 percent. Japan's benchmark Nikkei 225 added nearly 1.3 percent in morning trading to 22,063.74. Australia's S&P/ASX 200 added 0.2 percent to 6,285.20. South Korea's Kospi gained 0.7 percent to 2,289.66. Hong Kong's Hang Seng rose 1.5 percent to 28,745.84, while the Shanghai Composite index was up 1.6 percent at 2,790.02. Shares were higher in Taiwan and Southeast Asia.
Wall Street
The S&P 500 index rose 0.8 percent on Friday to finish the week at 2,759.82. The Dow Jones Industrial Average gained 0.4 percent to 24,456.48. The Nasdaq composite added 1.3 percent to 7,688.39. The Russell 2000 index of smaller-company stocks picked up 0.9 percent to 1,694.05.
Xiaomi's Debut
Chinese smartphone maker Xiaomi Corp. shares slipped in its first trading day in Hong Kong following a multibillion-dollar initial public offering. Trading on Monday opened at 16.60 Hong Kong dollars (USD$2.11) per share, below Xiaomi's offering price of 17 Hong Kong dollars ($2.17). Its shares lost about 4 percent in early trading but recovered most of that later in the morning.
Trade War
There were few developments over the weekend after Washington put a 25 percent tax on $34 billion worth of Chinese imports Friday and Beijing retaliated with taxes on an equal amount of U.S. products, including soybeans, pork and electric cars. The full impact of the measures may not be felt for some time, and there was little immediate reaction from investors who have known for weeks that the tariffs were due to take effect.
The Quote
"The absence of further escalation as of yet offers Asian equity markets a further reprieve with upsides expected at the start of the week, though one would reckon the playoffs for the rest of the week remain dependent on the developments of the U.S.-China trade tensions," said Jingyi Pan, a market strategist at IG in Singapore.
US Jobs
A Labor Department released Friday found U.S. employers added 213,000 jobs in June, suggesting that hiring remains brisk although average hourly pay rose just 2.7 percent from a year earlier, which means that after adjusting for inflation wages remain nearly flat. The report nonetheless was seen as a sign the American economy remains healthy, a boon for Japan and other export-dependent countries in Asia.
Energy
Benchmark U.S. crude rose 29 cents to $74.09 a barrel. It gained 86 cents to settle at $73.80 per barrel in New York late Friday. Brent crude, used to price international oils, added 36 cents to $77.47 per barrel.
Currencies
The dollar fell to 110.45 yen from 110.59 yen late Friday in Asia. The euro strengthened to $ 1.1760 from $1.1712.
Story: Yuri Kageyama