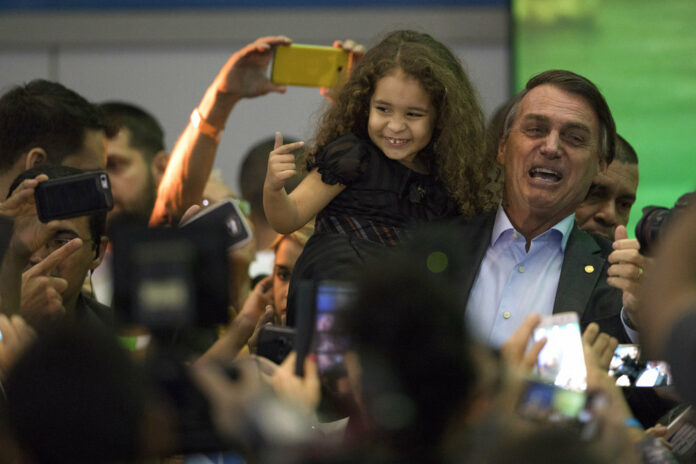 Ever since the stabbing of Julius Cesar in ancient Rome, assassination has been a fixture of political life around the world. But when political murder is captured on television – or now by citizen journalists via social media – the impact is often magnified, leaving a chilling effect that lasts for generations.
This week's stabbing of a leading Brazilian presidential candidate, Jair Bolsonaro, at a campaign rally mirrors past assassination attempts that have jolted voters, forged martyrs and left a blood-stained mark on history.
Here's a look at a few recent ones:
Colombia
Anti-corruption crusader Luis Carlos Galan was the first of three popular candidates killed in the country's 1990 presidential election that took place against the backdrop of a drug-fueled bloodbath. He was shot to death by hit men at a rally near Bogota.
Cesar Gaviria was thrust into the national spotlight during Galan's nationally televised funeral when one of the murdered candidate's teenage sons tapped him as his father's successor during an emotional eulogy. Gaviria was elected president nine months later, at age 42. During his four years in office he stepped up anti-narcotics cooperation with the United States and brought down infamous drug lord Pablo Escobar, who likely ordered Galan's murder.
Mexico
In the spring of 1994 Mexicans watched in shock as presidential candidate Luis Colosio was shot at point blank range at a campaign rally in Tijuana. Colosio was a shoo-in for the presidency but in some ways his brutal slaying paved the way for a more democratic era in Mexico.
After Colosio's death, his Institutional Revolutionary Party, which held a tight monopoly on power for seven decades, struggled to find a popular replacement amid internal frictions and ban on anyone who had held public office in the previous six months from running for the presidency. They eventually settled on Ernesto Zedillo, a U.S. educated technocrat who had served on Colossio's campaign. Zedillo oversaw electoral reforms that made Mexico's democracy more competitive, and eventually gave opposition parties the chance to win governorships as well as the country's presidency.
Pakistan
The 2007 slaying of Benazir Bhutto at a campaign rally as she was seeking to become Pakistan's prime minister for the third time touched off weeks of deadly rioting in the Muslim nation. Bhutto was killed in a combination shooting and suicide bombing just weeks after returning to Pakistan from exile. Her death made the self-styled "daughter of Pakistan" a martyr. Her husband, Asif Ali Zardari, was elected in her place and went about forcing the resignation of military ruler Pervez Musharraf.
Egypt
Egyptian President Anwar Sadat was presiding over a military parade in 1981 when in a matter of seconds, as fighter jets buzzed overhead, a cadre of soldiers clambered atop an artillery truck and opened fire on the grandstand where the icon of Arab nationalism was surrounded by foreign dignitaries. Shocking footage of the brazen assassination, payback for Sadat's signing a peace deal with Israel, was broadcast around the world. It also became an early propaganda trophy for Islamic radicals who had penetrated the military to carry out a cleric's order that Sadat be killed.
Israel
The assassination in 1995 of Prime Minister Yitzhak Rabin at the hands of a Jewish religious extremist ignited bitter divisions between liberals and conservatives in Israel that continue to this day. Rabin was walking to his car after speaking at a nighttime peace rally in Jerusalem when a far-right law student fired three shot in his direction. Footage of a Jew killing a fellow Jew traumatized Israel and was beamed across the globe.
During the days prior to the assassination, Israel's current leader, Benjamin Netanyahu, had led huge rallies against the Oslo accords at which he depicted the Nobel Peace Prize-winning Rabin as a traitor.
Despite criticisms of that charged rhetoric, Netanyahu eked out a narrow victory in the elections following Rabin's death and stalled on implementation of the accords. Some leaders, including former U.S. President Bill Clinton, believe that it Rabin had lived, peace between Israel and the Palestinians would have been achieved.
United States
For a time in the 1960s, American society seemed unhinged by political violence with the slayings of President John F. Kennedy, his brother Robert and civil rights leader Martin Luther King. Video footage of Kennedy's motorcade as it drove slowly through Dallas marked an entire generation and has been the source of plenty of conspiracy theories since.
So much turmoil had a profound impact on America's political psyche. Following the 1968 killings of King and Robert Kennedy, race riots engulfed many American cities, protests against the Vietnam War became more violent and a few radicals on the left decided to abandon non-violent protest in favor of what they called armed "resistance." But the broadcast of King's funeral also sparked more grief than violence, and fair housing legislation that had been the source of much bitterness was passed.
The Secret Service has had to guard almost every U.S. president since then against assassination plots or attempts. But the strength and composure demonstrated by Ronald Reagan – who memorably walked and joked his way into the hospital after he was shot leaving the Washington Hilton – cemented early in his presidency a reputation for toughness and coolness under fire.