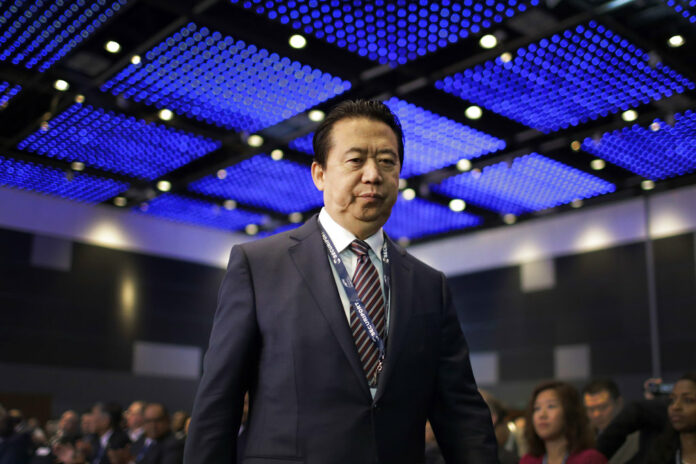 PARIS — He left his home in Lyon, France, for a visit to his homeland, and then vanished – putting the International Criminal Police Organization, best known as Interpol, at the center of its own missing persons case.
Meng Hongwei, Interpol's president, boarded a plane and arrived in China, according to a French judicial official. But then, nothing. His wife, who put out a call on Friday, said she hasn't heard from her 64-year-old husband since the end of September, the official said.
To make matters murkier, Meng is not just the head of Interpol: He's also a vice minister for public safety in China.
Interpol, based in Lyon, would say only that reports that its president is missing is "a matter for the relevant authorities in both France and China."
France launched its own investigation on Friday morning, according to the judicial official who wasn't authorized to speak publicly and asked for anonymity.
Whether China was taking action was unknown. But the South China Morning Post, a Hong Kong newspaper, hinted that Meng may have been the latest target of an ongoing campaign against corruption in China.
The newspaper said that upon landing last week Meng was "taken away" for questioning by what it said were "discipline authorities." The term usually describes investigators in the ruling Communist Party who probe graft and political disloyalty. The Central Commission for Discipline Inspection, the party's secretive internal investigation agency, had no announcements on its website about Meng and could not be reached for comment.
Meng is the first from his country to serve as Interpol's president, a post that is largely symbolic but powerful in status and not without political weight. But because Interpol's secretary general is responsible for the day-to-day running of the police agency's operations, Meng's absence may have little operational effect.
Far from being a Hollywood-style agency with agents toting weapons across the globe, Interpol is low-profile and discrete about its cases, unless it wants to talk.
The organization links up police officials of its 192 member states, who can use Interpol to disseminate their search for a fugitive, or a missing person. Only at the behest of a country does the information go public via a "red notice," the closest thing to an international arrest warrant. "Yellow notices" are issued for missing persons.
But Interpol walks a fine line between its noble mission – facilitating international police cooperation – and the politics and policies of some of its member countries.
Meng's appointment as president in 2016 – amid Chinese leader Xi Jinping's sweeping anti-corruption drive – alarmed some human rights organizations, fearful it would embolden China to strike out at dissidents and refugees abroad.
Such actions would be contrary to Interpol's mission statement: "Action is taken within the limits of existing laws in different countries and in the spirit of the Universal Declaration of Human Rights." It adds that "intervention or activities of a political, military, religious or racial character" are prohibited.
Meng has a shiny curriculum vita, having held down various positions within China's security establishment, including as a vice minister of public security – the national police force – since 2004. In the meantime, he served as head and deputy head of branches of the coast guard, all while holding positions at Interpol. His term in Lyon runs until 2020.
His duties in China would have put him in close proximity to former leaders, some who had fallen afoul of Xi's campaign. He likely dealt extensively with former security chief Zhou Yongkang, now serving a life sentence for corruption.
Xi has placed a premium on getting officials and businesspeople accused of fraud and corruption to return from abroad, making Meng's position even more sensitive.
The anti-corruption drive recently drew headlines after the disappearance three months ago of "X-Men" star Fan Bingbing, one of the country's best-known actresses.
Her whereabouts remain unknown. But on Thursday, Chinese tax authorities spoke publicly about her disappearance public, ordering her and companies she represents to pay taxes and penalties totaling USD$130 million. Fan is being fined around $70 million personally for tax evasion. Still out of the public eye, she issued a statement apologizing for her actions.
China, in the midst of a weeklong holiday, offered no comment on the disappearance of Meng.
In France, there were only questions.
The French are "obviously aware of the disappearance but know nothing more at this stage," said one diplomatic official, unauthorized to comment publicly on the matter and speaking only on condition of anonymity.
Story: Christopher Bodeen, Elaine Ganley