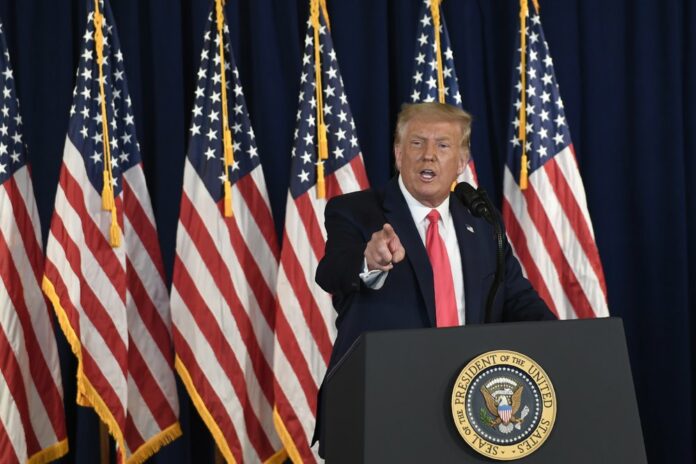 WASHINGTON (AP) — President Donald Trump isn't telling the full story when it comes to executive orders on coronavirus relief payments and health care.
Over the weekend, the president suggested that his move to bypass Congress with executive action calling for up to $400 in weekly unemployment assistance would mean immediate cash in hand for laid-off Americans during the pandemic. There's no guarantee of that. His own economic adviser acknowledged Sunday that various details remained to be worked out, including contributions from the states, and that legal challenges appeared likely.
And on health care, Trump said he would pursue a "major" executive order to require health insurance companies to cover preexisting conditions, something that "has never been done before." Actually, it's been done before — with "Obamacare," a law that Trump is seeking to invalidate.
The claims came in a week where truth took a beating, on topics from mail-in voting to the virus threat.
A look at the claims and reality:
TRUMP, on how quickly laid-off U.S. workers would get up to $400 a week bonus payments under his executive order: "It will be rapidly distributed. … They're going to see it very soon." — news conference Saturday.
THE FACTS: An imminent payment is unlikely, if one comes at all.
It is an open question how many people will receive the $400 weekly benefit, which is one-third less than the $600 previously provided by the federal government, and how long it might take to arrive. Trump's executive order seems to leave it up to the states to decide whether to participate and also asks them to cover 25%, or $100, of the cost, a major hurdle when their budgets are already under severe strain.
White House economic adviser Larry Kudlow on Sunday insisted the first checks could come "in a couple of weeks," but acknowledged that the administration had yet to fully canvass the states to see if they would be able to afford their payment share. Kudlow also allowed that the executive action could wind up in court. Several lawmakers have questioned the legality of the orders, which bypass legislation that would need to be approved by Congress. On Saturday, Sen. Ben Sasse, R-Neb., called the theory behind the executive orders "unconstitutional slop."
"We think we can do it," Kudlow told ABC's "This Week."
But there was a new wrinkle Sunday night: Trump told reporters that states could apply for federal dollars covering all or part of the $400 payments. He said decisions would be made on a state-by-state basis.
The previous supplemental unemployment benefit of $600 per week expired at the end of July.
___
TRUMP, on whether he was expecting legal challenges to his orders: "I didn't say that. No, no. I didn't say that." — news conference Saturday.
THE FACTS: He did say it.
At his news conference a day earlier in Bedminster, New Jersey, Trump said: "Yeah, probably we get sued, but people feel that we can do it."
___
TRUMP, on the threat from Russia, China and Iran of meddling in the U.S. presidential election: "The biggest risk that we have is mail-in ballots. … It's much easier for them to forge ballots and send them in, it's much easier for them to cheat with universal mail-in ballots." — news briefing Friday.
THE FACTS: Mail-in ballots aren't the biggest risk for foreign interference.
Trying to influence a federal election through mail-in ballots would probably mean paying thousands of U.S. citizens, carefully selected in pivotal states, who are willing to conspire with a foreign government and risk detection and prosecution.
Far easier and cheaper would be a social media campaign seeking to discourage certain groups of people from voting, which is something the FBI has warned about. Or a cyberattack on voter registration data that would eliminate certain voters from the rolls. That could cause havoc at polling places or election offices as officials attempt to count ballots from people who are "missing" from their voter databases.
On Friday, William Evanina, director of the National Counterintelligence and Security Center, warned about foreign interference and said Russia was already trying to undercut Democratic candidate Joe Biden. Evanina cited in part Kremlin-linked figures who are "seeking to boost President Trump's candidacy on social media and Russian television."
Last month, Attorney General Bill Barr raised the possibility that a "foreign country could print up tens of thousands of counterfeit ballots." He argued they would be hard to detect, but that's been disputed by election experts.
Absentee and mail-in ballots are printed on special paper and must be formatted correctly in order to be processed and counted. Ballots are specific to each precinct, often with a long list of local races, and would be identified as fraudulent if everything didn't match precisely.
___
TRUMP, asked if a vaccine for COVID-19 could become available before the election: "I think in some cases, yes possible before, but right around that time. …I'm rushing it. I am. I'm pushing everybody." — interview Thursday on the Geraldo Rivera radio program.
THE FACTS: He's offering a more ambitious timeline than his health experts and omitting key facts.
Dr. Anthony Fauci, the government's top infectious diseases expert, has said he is "cautiously optimistic" that a coronavirus vaccine will be ready by early next year. Even then, Fauci made clear that the vaccine would not be widely available right away.
"Ultimately, within a reasonable period of time, the plans now allow for any American who needs a vaccine to get it within the year 2021," Fauci told Congress last month.
Under White House orders, federal health agencies and the Defense Department are carrying out a plan to deliver 300 million vaccine doses on a compressed timeline. That will happen only after the Food and Drug Administration determines that one or more vaccines are safe and effective. Several candidates are being tested.
The push for a speedy vaccine has drawn concern from some scientists that the White House will pressure U.S. regulators to approve a vaccine before it's ready.
In an op-ed this past week, FDA Commissioner Dr. Stephen Hahn said his agency will not be influenced by any political pressure and will make decisions "based solely on good science and data."