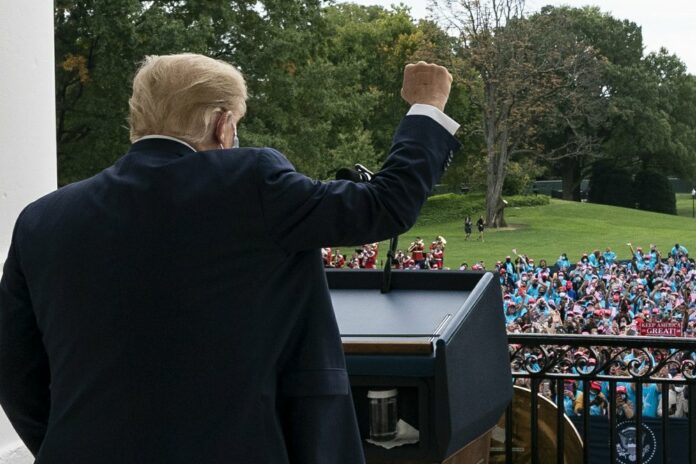 WASHINGTON (AP) — Impatient to return to the campaign trail, President Donald Trump dubiously claimed he's fully recovered and immune from COVID-19, hailed a cure that isn't so and declared the coronavirus is "disappearing" even as cases spiked.
The comments over the weekend capped a week that featured the only vice presidential debate of 2020 and Trump's hurried approach to leaving his convalescence behind and getting on with the campaign for the Nov. 3 election.
With confirmation hearings beginning Monday for Supreme Court nominee Amy Coney Barrett, Sen. Kamala Harris, the Democratic vice presidential candidate, made an unsubstantiated claim that Abraham Lincoln would've waited until after the election to fill the vacancy if he were in Trump's shoes.
A look at the claims and reality:
TRUMP: "I'm immune … It could be a lifetime." — interview Sunday on Fox News.
TRUMP: "A total and complete sign off from White House Doctors yesterday. That means I can't get it (immune), and can't give it." — tweet Sunday.
THE FACTS: That's far from certain, and Twitter later flagged his tweet with a fact-check warning.
Some medical experts have been skeptical that Trump could be declared free of the risk of transmitting the virus so early in the course of his illness. Nor can he be completely assured of immunity following his illness.
Trump was referring to a memo released Saturday by the White House in which Navy Cmdr. Dr. Sean Conley said Trump met the Centers for Disease Control and Prevention criteria for safely discontinuing isolation and that by "currently recognized standards" he was no longer considered a transmission risk. The memo did not declare Trump had tested negative for the virus.
Dr. Albert Ko, an infectious disease specialist and department chairman at the Yale School of Public Health, said the White House appeared to be following CDC guidelines for when it is appropriate to end isolation after mild to moderate cases of COVID-19.
But Ko cautioned that those who have had severe cases of the diseases should isolate for 20 days, not just 10 days as Trump has done. He noted that Trump was treated with the steroid dexamethasone, which is normally reserved for patients with severe COVID-19.
Dr. Marc Lipsitch, an infectious disease expert at the Harvard School of Public Health, said the doctor's letter does not provide enough information to be confident that Trump can no longer infect others. He said Trump's use of steroids could prolong viral shedding so the CDC's 10-day standard may not be enough.
As to immunity, while there's evidence that reinfection in unlikely for at least three months even for those with a mild case of COVID-19, very few diseases leave people completely immune for life. Antibodies are only one piece of the body's defenses, and they naturally wane over time.
"Certainly it's presumptuous to say it's a lifetime," Ko said.
___
TRUMP, on the pandemic: "It's going to disappear; it is disappearing." — remarks Saturday.
THE FACTS: There is no sign the virus is "disappearing," or "rounding a corner" as he sometimes puts it, despite Trump's repeated assertions since first making the claim in February, over 214,000 deaths ago. And it's certainly not what his top health advisers say.
"I'm sorry but I have to disagree with that," Dr. Anthony Fauci, the government's top infectious diseases expert, said last month, when the U.S. was seeing 40,000 cases a day. The U.S. is now seeing over 57,000 new cases daily, with spikes in numerous states.
Trump made the claim as he and several of his aides seek to recover from the coronavirus following a potential superspreader event last month where Trump announced his nomination of Barrett to the Supreme Court. More than two dozen people in attendance that day have since contracted the virus. Trump now plans to return to the campaign trail Monday, and officials have signaled Trump's intention to travel nearly every day for the rest of the campaign.
Fauci has cautioned that people should not underestimate the pandemic and they will "need to hunker down and get through this fall and winter because it's not going to be easy." He and other health experts, such as Dr. Robert Redfield of the CDC, have warned of a potentially bad fall because of dual threats of the coronavirus and the flu season.
___
TRUMP, on those who get COVID-19. "Now what happens is you get better. That's what happens, you get better." — to Fox Business on Thursday.
THE FACTS: As a blanket assurance, that is obviously false. Most people get better. But more than 1 million people worldwide have died from the disease, more than 214,000 of them in the U.S. The disease also may leave many people with long-term harm that is not fully understood.
Trump's doctor, Dr. Sean Conley, says Trump was showing no evidence of his illness progressing or adverse reactions to the aggressive course of therapy prescribed by his doctors. That doesn't mean he is over it.
___
HARRIS on the virus: "The president said it was a hoax."
THE FACTS: That's misleading.
She's referring to a Feb. 28 campaign rally in South Carolina in which Trump said the phrases "the coronavirus" and "this is their new hoax" at separate points. Although his meaning is difficult to discern, the broader context of his words shows he was railing against Democrats for their denunciations of his administration's coronavirus response.
"Now the Democrats are politicizing the coronavirus," he said at the rally. "You know that, right? Coronavirus. They're politicizing it." He meandered briefly to the subject of the messy Democratic primary in Iowa, then the Russia investigation before returning to the pandemic. "They tried the impeachment hoax. … And this is their new hoax."
Asked at a news conference the day after the rally to clarify his remarks, Trump said he was not referring to the coronavirus itself as a hoax.
"No, no, no." he said. "'Hoax' referring to the action that they take to try and pin this on somebody, because we've done such a good job. The hoax is on them, not — I'm not talking about what's happening here. I'm talking what they're doing. That's the hoax."
___
HARRIS, on the effects of the pandemic: "One in 5 businesses, closed."
THE FACTS: That's not accurate, as of now. We don't know yet how many businesses have permanently closed — or could do so in the months ahead.
What we do know is that the National Federation of Independent Business said in August that 1 in 5 small businesses will close if economic conditions don't improve in the next six months.
Many small businesses survived in part through the forgivable loans from the Payroll Protection Program. Larger employers such as Disney and Allstate insurance have announced layoffs, as have major airlines. Restaurants that survived the pandemic with outdoor eating will soon face the challenge of cold weather. So it's too soon to tell how many businesses have closed or will.
___
Associated Press writers Josh Boak, Ellen Knickmeyer, Seth Borenstein, Ricardo Alonso-Zaldivar, Colleen Long and Amanda Seitz contributed to this report.