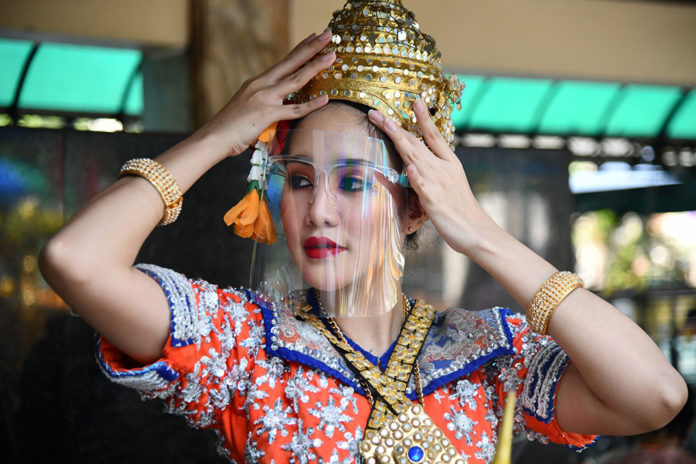 Top: A dancer at the Erawan Shrine puts on a face shield along with her Thai dance head ornament on May 5, 2020.
The coronavirus pandemic is a deadly pandemic of coronavirus disease 2019 (COVID-19) that emerged in China in the last month of 2019. Thailand detected its first coronavirus case a month later, the first country to do so outside China, and the disease escalated into a global pandemic by March 2020.
As of February 2021, at least 106 million cases have been confirmed around the world, with more than 2.3 million deaths associated with the disease, and there is still no end in sight for the pandemic.
To stay safe from the coronavirus, doctors and health professionals recommend engaging in social and physical distancing, wearing face masks in public, hand washing, covering one's mouth when sneezing or coughing, and disinfecting surfaces.
The pandemic and attempts to contain it have resulted in worldwide social and economic disruption on a scale unseen in living memories. Many experts fear the outbreak is a major destabilizing threat to the global economy that could see a return of financial crises.
In Thailand, the most affected industries include tourism and hospitality, as borders were sealed off, events cancelled or postponed, travel curtailed, and many business venues closed down.
Thailand has also seen a rise of xenophobic sentiment and discrimination – sometimes egged on by senior government officials – against Chinese people, Westerners, and migrant workers from Myanmar who are perceived as the "carriers" of the virus.
Vaccines are said to be on the way. The Thai government announced it has secured shipments from AstraZeneca and Sinovac, who are based in the United Kingdom and China, respectively.