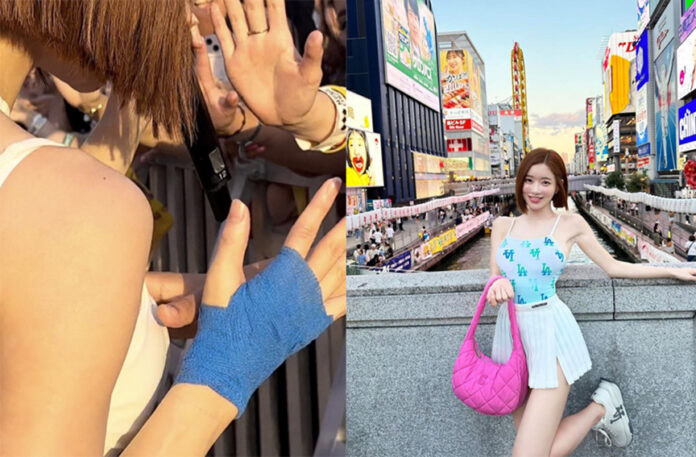 SEOUL – Popular South Korean performer DJ Soda has said she felt "shocked and scared" after she was openly groped by audience members during a music event over the weekend in Japan, adding that she had "never ever experienced anything like this" in a decade of performing.
The renowned DJ and model, who has more than 5 million Instagram followers, took to social media platforms to slam unidentified individuals, including a woman, who she said touched and grabbed her breasts when she descended the stage to interact with fans at a music festival in Sennan, Osaka Prefecture.
"I'm so embarrassed and humiliated that I can't believe this incident has happened," she wrote Monday, adding that it will likely "be hard to get close to the fans from the stage" from now on.
日本の大阪ミュージックサーカスフェスティバルで公演を終えましたがその時に凄く悲しい出来事がありました。
ファンの方々ともっと近くで楽しんでもらうために、
私が公演の最後の部分でいつものようにファンの方々に近づいた時、
数人が突然私の胸を触ってくるというセクハラを受けました。 pic.twitter.com/fuidZ0sliD

— djsoda (@dj_soda_) August 14, 2023
DJ Soda, who typically approaches the audience at the end of her set, said she did her best to finish the crowd interaction at the Music Circus festival for the sake of other fans "who liked me and also cried a lot."
TryHard Japan, the organizer of the event, on Tuesday released a statement on its official Instagram account condemning the "criminal acts," saying it intended to seek damages and file complaints against the individuals involved.
"While providing maximum support to DJ Soda, who was victimized, we intend to identify the individuals responsible for this despicable crime and take legal measures, both civil and criminal," the company wrote.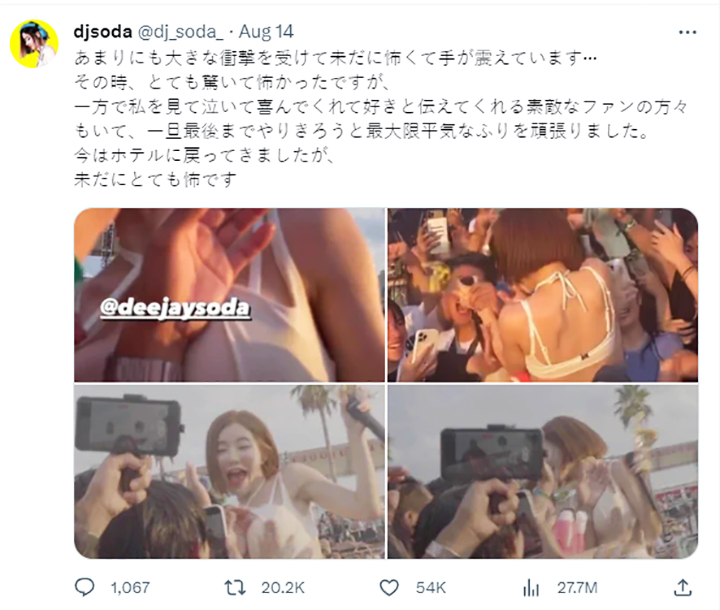 DJ Soda in her posts included photos of fans reaching across security fencing and appearing to touch her arms and chest. In the commotion, she said, it was a woman who grabbed her breasts harder than any of the other festivalgoers.
In response to some users who blamed her for wearing skimpy clothes, DJ Soda said in a follow-up post that "no matter what clothes I wear, sexual harassment and assault cannot be justified."
"My body is mine, not someone else's. I like to wear revealing clothes and I will continue to wear them," she said.