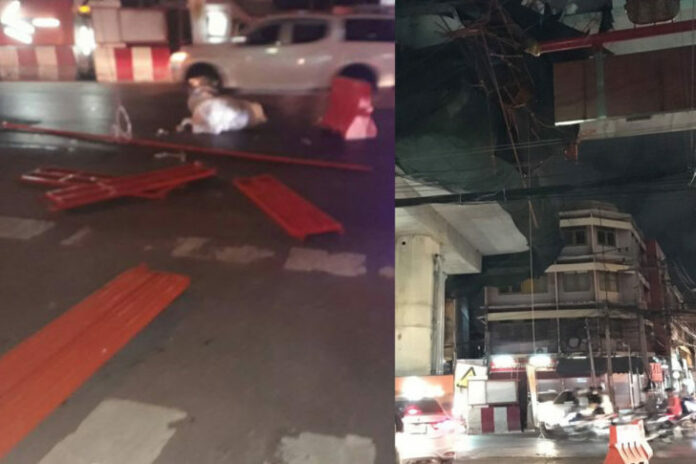 BANGKOK — Metal scaffolding came raining down on a busy intersection Sunday night from an elevated rail station being built in the capital's Bangkok Noi district.
Charan Sanitwong Road was closed several hours after metal scaffolding dropped from the future site of MRT Bang Khun Non, a future station on the western Blue Line extension. The debris fell at about 8pm and landed in three pieces in the middle of the intersection. No injuries were reported.
Contractor SH – UN, a joint venture between Sinohydro Co. Ltd. and Unique Engineering and Construction Co. Ltd, said it was inspecting the scene this morning.
When the Blue Line extension opens in 2020, MRT Bang Khun Non will sit between MRT Bang Sue and Tha Phra.
The incident happened just a week after a metal beam fell from an elevated construction site along the Dark Red Line heightened concerns about public safety.
Acknowledging the rise in accidents at the construction sites under its concession, the Mass Rapid Transit Authority, or MRTA, said Friday it would begin recording accidents under each contractor's watch. It said that data would be weighed when considering bidding processes for the next three rail lines.
Deputy MRTA governor Pakapong Sirikantaramas blamed recent accidents on human error.
https://twitter.com/pchanpholngam/status/876474513277411328
https://twitter.com/pchanpholngam/status/876480486532567040