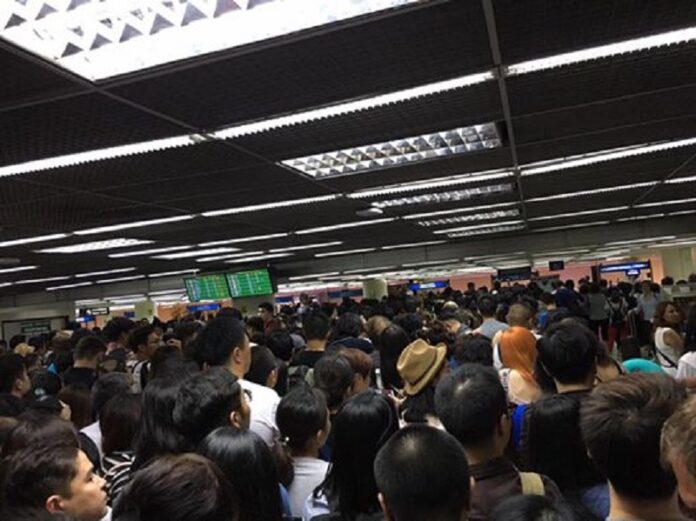 BANGKOK — Junta chairman Prayuth Chan-ocha said Tuesday the hours-long queues at Bangkok's international airports must come to an end.
Outrage bloomed last week after photos spread of long queues at Don Mueang Airport in which people reportedly waited up to four hours to clear immigration. The photos have prompted pledges from officials to solve the queue problem – a recurring complaint of foreign travelers.
"I have ordered national security officials to stress to the immigration, the airport authority and the Ministry of Transport that they quickly solve the problem," the junta chief said after his weekly Cabinet meeting. "Problems are challenges that we must solve."
On Wednesday afternoon immigration police commander Natthathorn Prohsunthorn told reporters his force would hire more staff and open more counters to handle the flow of passengers.
He also said the number of passengers arriving at Don Mueang Airport has increased by 400 percent in the past five years, which stretched the capacity of its infrastructure and staff to the limit.
"The number of checkpoint counters and immigration staff could not keep up with the increasing number of passengers," Lt. Gen. Nattathorn said.
On Saturday, Thammasat law lecturer Piyabutr Saengkanokkul wrote online that his wife, a French national, was stuck along with hundreds of other passengers for hours at immigration at Don Mueang, an airport that was brought back into service in mid 2007 to ease crowding at the newer Suvarnabhumi International Airport.
Piyabutr, who also belongs to a group of progressive law professors called Nitirat, said his wife saw people fainting in the lines, and was rudely scolded by officials when she asked them to let passengers use empty "priority lanes." She ended up waiting in line for four hours and twenty minutes, the lecturer said.
"Many foreign tourists insist this was their worst experience. Some came to Thailand for the first time. And this is what they had to go through," Piyabutr wrote.
Immigration police commanders told the media in following days the problem was caused by a lack of staff and a number of flights that arrived at the same time.
By late Wednesday, complaints of long lines again surfaced on social media – this time at Suvarnabhumi Airport.
Prayuth said Tuesday officials should also look for novel measures to reduce waiting times. For example, he suggested, Thais could do away with the "Tor Mor Six" arrival cards.
Hellish queues at Bangkok's airports are common. In February, 13 people reportedly missed their flight because of long lines at Suvarnabhumi Airport, during which only six out of 18 counters were open for service.