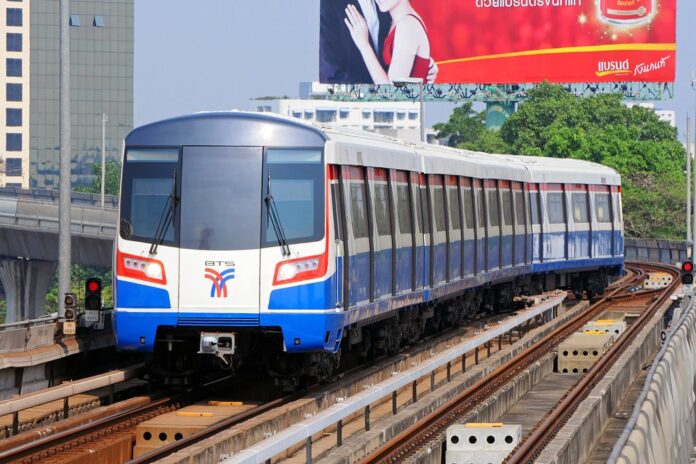 BANGKOK — Commuters will soon have to shell out a few more baht every day to ride the BTS Skytrain.
Fares will rise by up to 3 baht on the Sukhumvit and Silom lines starting Oct. 1, Surapong Laoha-Unya, executive director of the Bangkok Mass Transit System Co. Ltd., announced Monday.
Fare increases will not affect stations along the extended Sukhumvit Line, from BTS On Nut to BTS Samrong.
Current fares of 15 baht to 42 baht will rise to 16 baht to 44 baht when the new schedule takes effect in just over a month. Traveling farther than seven stations will cost 44 baht instead of 42 baht.
The fare hike will also apply to 30-day cards, for both general riders and students: up 1 baht per trip. That means, per month, regular commuters will have to pay 1,300 baht for 50 trips, 1,080 baht for 40 trips, 725 baht for 25 trips and 465 baht for 15 trips.
The rail system's concession calls for regularly scheduled increases that must be reviewed and approved. Surapong said the underlying fare structure hasn't increased in four years.
"The last change of the fares were June 1, 2013," he said Monday afternoon. "It's been four years that [we] haven't raised the fundamental fares although the concession contract allows the fare to change every 18 months… ."
The chairman and executive officer of the BTS Group added that the Skytrain's maintenance expenses have steadily increased annually, sometimes by up to 20 percent.
BTS Group will add more 46 trains in the first quarter of next year, Surapong added, and 50 more ticket vending machines. Ticketing machines that currently only accept coins will be replaced by touch-screen machines that can accept bank notes.